Què és WindGURU?
WindGURU és un servei especialitzat en previsions meteorològiques, bàsicament (però no només) per a windsurfistes i kitesurfistes. Les previsions es basen en dades produïdes per models de previsió meteorològica. Windguru pot proveir previsions de qualsevol punt del planeta Terra. La raó principal d'haver creat aquest lloc web fou la idea de poder obtenir previsions ràpidament i sense haver de clicar el ratolí salvatgement per a trobar mapes meteorològics per Internet.
Important: Les previsions que podeu veure en aquest lloc web no són de cap manera oficials, Windguru fou desenvolupat per tal d'ajudar a la gent a veure previsions. El que hi podeu veure són només dades crues en format humanament intel·ligible, la seva interpretació és totalment responsabilitat vostre. Tingueu en compte que els models no són més que models..., preveure el temps és una tasca extremadament difícil i aquests models són molt complicats, que les previsions no siguin perfectes és normal.
Les previsions es apareixen en taules que mostren com el temps es desenvoluparà en un lloc concret en els propers dies. És segur que la velocitat i direcció del vent són les més importants, però també es mostra la temperatura, precipitació, nuvolositat i ones (per a llocs oceànics). Evidentment això no és l'únic que hi podeu trobar en aquest lloc web, també hi ha arxius de vent, prediccions de marees, alguns mapes de previsió, les cerques de "Previsions Més Populars", un senzill fòrum d'usuaris... i espero poder afegir noves funcionalitats més endavant. Sigui com sigui, la base de Windguru sempre seran les taules de previsió meteorològica.:
Taules de previsió meteorològica
Every forecast table shows a model initialization time (top left corner) which is in UTC (GMT), all the other times are in local time. The last row of the forecast shows coordinates, altitude and timezone of the spot - if the timezone is set correctly it should automatically adjust daylight savings time if it is active. Next to the little sun icon are the times of sunrise and sunset in local time (these are really sunrise and sunset, NOT dawn and twilight). Ocean spots also show sea surface temperature (more info below). Totes les petites llegendes que hi ha a les previsions:
Velocitat del vent: velocitat del vent a 10 metres sobre la superfície
Velocitat del vent modificada: La idea de "vents modificats" és la d'estimar com de bo el vent serà a les localitzacions més sensibles a les direccions del vent però on els models no se n'adonen. A causa del relleu paisatgístic al voltant del vostre lloc el vent pot ser millor quan bufa d'una direcció per pitjor quan bufa des d'una altra. Podeu trobar més informació sobre les modificacions al vent a la secció d'ajut especial sobre vents modificats
Direcció del vent:molts ho entendreu :) però tot i això encara rebo preguntes sobre el tema, així que per a què quedi clar a tothom:

el vent del NORD és el vent que bufa DES DEL nord. Un altre exemple: vent del sud-oest:

Temperatura: temperatura a 2 metres sobre el terra
*Temperatura: temperature in 2 meters above ground with correction to real altitude of the spot. The temperature is a parameter which varies by altitutude. The model only has a limited resolution so it only calculates with a smoothed terrain. In more variable terrain the difference between model and real height of the spot can be significant. Because we can determine the difference between altitudes we can adjust the temperature forecast to fit the real height of the spot by interpolating forecast data from different levels. By default we show this adjusted forecast instead of original model temperature where available, registered users can turn this off in user settings or choose to show both model and adjusted temperatures. (disponible en GFS, NAM, HRW)
Els ajustaments de temperatura només poden funcionar bé si sabem l'alçada real del lloc. Windguru utilitza els jocs de dades de GTOPO30 i SRTM com a font per a les dades d'alçada. GTOPO30 és un model digital global d'elevació amb 30 arc segons (1Km aprox.) de resolució del U.S. Geological Survey USGS. L'SRTM consistia en us sistema de radar especialment modificat que va volar dins l'Space Shuttle Endeavour durant una missió d'11 dies el Febrer del 2000, va generar la base de dades topogràfica d'alta resolució més complerta en la majoria d'arees de la Terra. Ambdues bases de dades proveeixen alçades força acurades per a les coordenades especificades, però els usuaris també poden introduir manualment les alçades dels seus llocs propis.
Sensació tèrmica: is the apparent temperature felt on exposed skin due to wind. The degree of this phenomenon depends on both air temperature and wind speed. The wind chill temperature (often popularly called the wind chill factor) is always lower than the air temperature for values where the wind chill formula is valid. Wind chill is only defined for temperatures at or below 10 °C (50 °F) and wind speeds above 3 knots. (optional, hidden by default, registered users can enable this parameter)
isoterma de 0º: alçada en metres on la temperatura es de 0 graus Celsius (nivell de congelació). Per defecte només ho mostrem si el model preveu temperatures per sota dels 5ºC. Els usuaris registrats poden canviar aquesta configuració. (disponible en GFS, NAM)
Humitat relativa: humitat relativa en percentatge. Amagada per defecte però els usuaris registrats poden escollir que aquest paràmetre es vegi.
Pressió: pressió en el nivell mitjà del mar (pressió reduïda al nivell del mar) en hPa. Amagada per defecte però els usuaris registrats poden escollir que aquest paràmetre es vegi. (Els valors per sobre de 1000 hpa es mostren com x-1000 per estalviar espai a la taula)
Nuvolós: molta / mitja / poc nuvolositat en percentatge (disponible en GFS, NAM, WRF). Opcionalment, els usuaris registrats poden escollir només veure la nuvolositat total en un valor (poca, mitja i molta). HRW model only offers total cloud cover.
Precipitation: Precipitation in milimeters. Models that offer forecasts for every 3 hours show accumulated precipitation for last 3 hours, models that have hourly forecasts show precipitation for last hour. For better comparison the background color indicating intensity will be same for both 1 or 3-hourly models. Some of the models can also indicate snowfall - with bold blue numbers.. (disponible en GFS, WRF 9 km (Europe), WRF 3 km (CZ)). Snow/rain type of precipitation is estimated according to altitude of the spot and forecasted freezing level height. 1 mm of rain could transform into approx. 1 cm of snow so when you see blue numbers you can consider these values as centimeters of snow per hour (or 3 hours) instead of milimeters of rain.
Valoració Windguru: Com seran de bones les condicions pel windsurfing? Suposo que tothom estarà interessat per la velocitat del vent :) de vegades només les baixes temperatures poden ser un límit... el número exacte d'estrelles depèn de la vostra configuració d'usuari però la configuració per defecte ve a ser:
| | |
| --- | --- |
| | = Practicable, però només veles grans (7.x metres) |
| | = Molt bon vent. No et deixis les veles de 5.x a casa! |
| | = Superb! és un crim ignorar un dia com aquest! |
| | Les estrelles blaves per comptes de grogues apareixien quan s'espera temps fred (10º o menys, però ho podeu ajustar a la vostra configuració d'usuari). |
Sí, qui no sigui windsurfista tindrà altres preferències, per exemple pel parapent 30 nusos no és una molt bona previsió... Espero preparar més puntuacions per a d'altres tipus d'usuaris.
Per als llocs oceànics també es disposa de la predicció de l'onatge. Es basa en el model NWW3 (rellotge d'ona NOAA III)
Ona: Alçada de l'ona significant en metres. És l'alçada mitja (des de la cresta de l'ona a través) del terç d'ones més altes en el lloc.
Període d'ona: Període de pic d'ona en segons. És el període del sistema d'ones dominants derivat de l'espectre d'energia d'ona. Això pot ser o bé el "vent de mar" generat localment (en casos on hi ha vents forts locals), o bé onatge generat en algun altre lloc.
Direcció de les ones: Direcció de les ones dominants.
Si us plau tingueu en compte que les dades d'onatge són generals "al voltant de l'àrea", a mar obert... no en el vostre escull local de la vostra petita badia (les previsions es basen en les dades del tosc NWW3). Heu de pensar quines ones entren a la vostra platja basant-vos en quina és la previsió d'ones.
Sea surface temperatures come from NOAA Real-Time Global Sea Surface Temperature analysis (RTG_SST_HR dataset), the source is satellite data and also buoy and ship observations. The resolution of the SST dataset is 0.083 degree (approx. 8 km) so remember that local differences are always possible. Temperatures are only valid for oceans and large lakes. Data update once per day. More information at NOAA website.
Colors utilitzats en la previsió:

Graphical version of the forecast.
Now you can also see the forecasts as graphs, simply click the tab with graph icon at any forecast table.

Since the beginning of this site, the core of Windguru was the forecast displayed as colorful table with a lot of numbers. I think it will stay like this in future too because despite one can consider it a bit oldschool, the table shows a lot of info with high detail on a small space and still looks clear and uncluttered. But why not to offer alternative display option? Forecast graph offers another view, more eye candy :-) and some people will prefer it.
If you like to have the graphical view as your default, you can set it using the "options tab" on the main page.
Important notice: Your browser must support SVG graphics in order to display the graphical forecast. All good browsers (Chrome, Firefox, Opera, Safari, IE 9) are OK, but if you have Internet Explorer 8 or older it will not work, please switch to better browser if this is your case.
The positive thing is that all the graphs are not plain images that require additional data download, instead they are drawn by your browser, so it is also bandwith friendly for those with slower connections.
Graph example
What you see below is the first version of the graphical forecast (probably not final, we expect to fine-tune it over time).
There are two main sections of the graph, the upper part is dedicated to the most important = wind, it scales depending on how much wind is predicted, if strong wind is forecasted it is bigger, if there is not much wind it becomes smaller.
The bottom part shows the "less important" parameters like temperature, clouds, precipitation, pressure and humidity - all drawn into one section to save space. The cloud cover display is a little special so it needs a little more explanation: low clouds are the dark grey area that is drawn from bottom of the graph, high clouds are light grey drawn from the top of this graph section and middle clouds (medium grey) are drawn from the center both up and downwards. If any of these fill all the area then it means 100% cloud cover for given cloud layer. Because all the cloud layers are semi-transparent if there is a lot of clouds in all layers the whole cloud graph turns almost black indicating a lot of clouds, the darker it is the more clouds are forecasted and you can still see how much each layer participate.
Right now the units for wind speed and temperature are taken from the classic table forecast, if you want to switch them temporarily, go back to the normal forecast, change units to what you prefer and then open the graph tab again, it will redraw with selected units.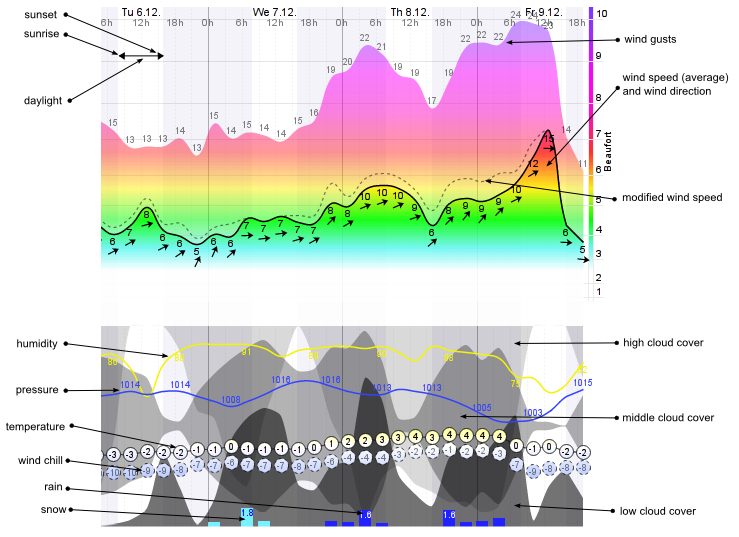 Future plans are to use the graphical display for visualizing temperature profile and wind in higher levels. We also plan to allow users to customize graph appearance because not only wind addicted people watch Windguru and they probably have other preferences.
© 2000 - 2023 www.windguru.cz | Termes i condicions | Ajuda | Contacta |