Co je WindGURU?
WindGURU je služba poskytující předpovědi počasí především pro vyznavače windsurfingu, kitesurfingu případně jachtingu. Předpovědi vycházejí z výsledků numerických modelů. Smyslem tohoto webu je poskytnout předpověď v co nejpřehlednější formě a bez zbytečného klikání myší. Předpovědi se zobrazují ve formě tabulek znázorňujících vývoj počasí na daném místě. Windguru dokáže vytvořit předpověď pro jakékoliv místo na planetě!
Důležité upozornění: Předpovědi na windguru.cz rozhodně nejsou žádnými oficiálními předpovědmi, windguru.cz pouze poskytuje pohodlný přístup k výstupům meteorologických modelů. Interpretace zůstává na uživateli. Veškeré informace jsou bez záruky. Mějte vždy na paměti že model je pouze model. Modelování vývoje počasí je velmi složitá úloha a proto je normální že výsledná předpověď nemusí být přesná.
Předpovědi jsou zobrazovány především formou předpovědních tabulek které ukazují jak by se mělo v dané lokalitě vyvíjet počasí v několika následujících dnech. Windguru však poskytuje informace o počasí i v dalších formách jako jsou předpovědní mapy a žebříček nejlepších předpovědí větru. Dále je k dispozici i archiv dat z minulosti, jednoduché fórum pro návštěvníky atd. Každopádně základem windguru jsou předpovědi v tabulkách::
Předpovědní tabulky
Datum a čas je uveden v místním čase. V levém horním rohu každé tabulky je uveden čas ze kdy pocházejí data, tento je ve světovém čase (UTC). Všechny ostatní časy v předpovědích jsou v lokálním čase. Poslední řádek tabulky uvádí souřadnice, nadmořskou výšku a časové pásmo lokality. Za předpokladu že pásmo je nastaveno správně je v časech zahrnut i vliv letního času. Vedle ikony slunce je údaj o východu a západu slunce pro dnešní den (v lokálním čase) U přímořských lokalit je též zobrazena teplota moře. (více informací níže). malá legenda k předpovědím:
Vítr: Jedná se o údaj o rychlosti větru ve výšce 10 metrů nad povrchem
Modifikovaný vítr: V tabulkách se nemusí zobrazovat rychlost větru jen taková jak jí předpovídá model. Na mnoha vodách je rychlost větru ovlivněna lokálně okolním terénem a to model nezachytí. Např. JV vítr na Nechranicích je katastrofální, naopak JZ je vždy lepší než jinde. Windguru se snaží tyto rozdíly alespoň částečně zohlednit a jako "Modif. vítr" zobrazuje upravené hodnoty (pro různé směry přidává nebo ubírá určité procento oproti předpovědi). Více informací o modifikacích větru najdete v další části nápovědy.
Směr větru:pro většinu lidí srozumitelný údaj nicméně i tak se občas objeví dotazy... tedy pro jistotu: vítr označujeme podle toho ODKUD fouká, tzn.

toto je SEVERNÍ vítr, vítr který fouká od severu. Další příklad, jihozápadní vítr::

Teplota: teplota ve 2 metrech nad zemí
*Teplota: teplota ve 2 metrech nad zemí s korekcí na skutečnou nadmořskou výšku. Teplota je parametr který je závislý na nadmořské výšce. Numerický model má jen omezené rozlišení a proto pracuje jen s nepřesným - vyhlazeným modelem terénu, zejména v horách může být rozdíl mezi skutečnou a modelovou výškou výrazný. Protože dokážeme zjistit rozdíl mezi těmito výškami můžeme podle něj upravit předpověď teploty interpolací z předpovědních dat pro různé hladiny. Standardně zobrazujeme takto upravenou teplotu (tam kde máme potřebné údaje k dispozici), registrovaní uživatelé mohou toto vypnout a nebo zobrazovat jak upravenou tak původní modelovou teplotu. (dostupné u GFS, NAM, HRW)
The temperature adjustements can only work right if we know the real altitude of the spot. Windguru uses GTOPO30 and SRTM data sets as source of altitude data. GTOPO30 is a global digital elevation model with 30 arc seconds = approximately 1 kilometer resolution by USGS (U.S. Geological Survey). SRTM (Shuttle Radar Topography Mission) consisted of a specially modified radar system that flew onboard the Space Shuttle Endeavour during an 11-day mission in February of 2000, it generated the most complete high-resolution digital topographic database of Earth in most land areas. Both these databases provide pretty accurate altitudes for specified coordinates but users can also enter altitudes of their custom spots manually.
Wind chill: is the apparent temperature felt on exposed skin due to wind. The degree of this phenomenon depends on both air temperature and wind speed. The wind chill temperature (often popularly called the wind chill factor) is always lower than the air temperature for values where the wind chill formula is valid. Wind chill is only defined for temperatures at or below 10 °C (50 °F) and wind speeds above 3 knots. (optional, hidden by default, registered users can enable this parameter)
Izoterma 0°C: nadmořská výška ve které je teplota 0 stupňů celsia. Standardně se zobrazuje jen v případě kdy model předpovídá teplotu pod 5 stupňů, registrovaní uživatelé si mohou zvolit jiné nastavení. (dostupné u GFS, NAM)
Vlhkost: relativní vlhkost v procentech. Standardně se nezobrazuje, registrovaní uživatelé si toto mohou povolit v nastavení.
Tlak: tlak přepočtený na hladinu moře v hektopascalech (hPa). Standardně se nezobrazuje, registrovaní uživatelé si toto mohou povolit v nastavení. (Hodnoty nad 1000 hPa se zobrazují tučně jako hodnota minus 1000 abychom šetřili místem v předpovědní tabulce)
Oblačnost: vysoká / střední / nízká oblačnost v procentech (dostupné u GFS, NAM, WRF). Registrovaní uživatelé si mohou zvolit zda zobrazovat oblačnost jako dříve tzn. jen jako celkovou oblačnost HRW model only offers total cloud cover.
Precipitation: Precipitation in milimeters. Models that offer forecasts for every 3 hours show accumulated precipitation for last 3 hours, models that have hourly forecasts show precipitation for last hour. For better comparison the background color indicating intensity will be same for both 1 or 3-hourly models. Some of the models can also indicate snowfall - with bold blue numbers.. (dostupné u GFS, WRF 9 km (Europe), WRF 3 km (CZ)). Snow/rain type of precipitation is estimated according to altitude of the spot and forecasted freezing level height. 1 mm of rain could transform into approx. 1 cm of snow so when you see blue numbers you can consider these values as centimeters of snow per hour (or 3 hours) instead of milimeters of rain.
Windguru rating: tímto se Windguru snaží pomocí hvězdiček naznačit jak kvalitní surfování by mělo na dané vodě být s ohledem na rychlost větru. Kolik hvězdiček se zobrazí záleží na nastavených minimálních limitech rychlosti a na modifikované rychlosti větru (viz výše), pokud žádná modifikace nastavena není použije se normální vítr podle modelu. Zobrazování hvězdiček lze vypnout a minimální rychlosti individuálně určit v uživatelském nastavení. Výchozí nastavení je cca:
| | |
| --- | --- |
| | = Mělo by se jezdit. Minimálně na plachty 7.něco |
| | = Vynikající vítr. 5ky doma radši nenechávejte |
| | = Super! Je zločinem proti lidskosti ignorovat takový den! |
| | Modrá barva značí nízkou teplotu, jako výchozí je to 10 a méně stupňů, v nastavení si každý může limit upravit podle toho co sám snese :) |
Ano, windguru sledují i jiní uživatelé než jen surfaři, např. pro paraglidistu nebude 15 m/s znamenat ideální den... Pokusím se časem doplnit i varianty pro jiné sporty.
Pro oceánské oblasti se zobrazují též předpovědi vln podle modelu NWW3 (NOAA wave watch III):
Vlna: Výška vln v metrech, přesněji se jedná o "Significant wave height" tedy něco jako výška významných vln. (pokud rozdělíme vlny rovnoměrně do 3 skupin podle velikosti, potom tento údaj uvádí průměrnou výšku vln spadajících do horní třetiny)
Perioda vln: "Peak wave period", čas mezi přechodem 2 vln, uvedeno v sekundách.
Směr vln: "Peak wave direction", bereme v úvahu periodu "swellu", vln s nejvyšší energií
Upozornění! Předpověď vln se týká vln na otevřeném moři v oblasti ve které se lokalita nachází, model nemá takové rozlišení aby dokázal určit stav přesně v konkrétním bodě. Pobřeží může být např. ve stínu ostrova nebo uvnitř zálivu apod. Výslednou výšku vln které naráží na pobřeží také významě ovlivňuje tvar dna, příliv a odliv atd, to vše je třeba brát v úvahu při odhadu skutečné situace.
Teplota moře dle dat z analýzy NOAA "Real-Time Global Sea Surface Temperature" (RTG_SST_HR), zdrojem jsou satelitní data, údaje získané z mořských bójí a lodních pozorování. Rozlišení dat je 0.083 stupně (cca 8 km) mějte proto na paměti že místní rozdíly jsou možné. Teploty jsou platné jen pro moře a velká jezera. Data se aktualizují jednou denně. Více informací na stránkách NOAA.
Barvy použité v předpovědích:

Graphical version of the forecast.
Now you can also see the forecasts as graphs, simply click the tab with graph icon at any forecast table.

Since the beginning of this site, the core of Windguru was the forecast displayed as colorful table with a lot of numbers. I think it will stay like this in future too because despite one can consider it a bit oldschool, the table shows a lot of info with high detail on a small space and still looks clear and uncluttered. But why not to offer alternative display option? Forecast graph offers another view, more eye candy :-) and some people will prefer it.
If you like to have the graphical view as your default, you can set it using the "options tab" on the main page.
Important notice: Your browser must support SVG graphics in order to display the graphical forecast. All good browsers (Chrome, Firefox, Opera, Safari, IE 9) are OK, but if you have Internet Explorer 8 or older it will not work, please switch to better browser if this is your case.
The positive thing is that all the graphs are not plain images that require additional data download, instead they are drawn by your browser, so it is also bandwith friendly for those with slower connections.
Graph example
What you see below is the first version of the graphical forecast (probably not final, we expect to fine-tune it over time).
There are two main sections of the graph, the upper part is dedicated to the most important = wind, it scales depending on how much wind is predicted, if strong wind is forecasted it is bigger, if there is not much wind it becomes smaller.
The bottom part shows the "less important" parameters like temperature, clouds, precipitation, pressure and humidity - all drawn into one section to save space. The cloud cover display is a little special so it needs a little more explanation: low clouds are the dark grey area that is drawn from bottom of the graph, high clouds are light grey drawn from the top of this graph section and middle clouds (medium grey) are drawn from the center both up and downwards. If any of these fill all the area then it means 100% cloud cover for given cloud layer. Because all the cloud layers are semi-transparent if there is a lot of clouds in all layers the whole cloud graph turns almost black indicating a lot of clouds, the darker it is the more clouds are forecasted and you can still see how much each layer participate.
Right now the units for wind speed and temperature are taken from the classic table forecast, if you want to switch them temporarily, go back to the normal forecast, change units to what you prefer and then open the graph tab again, it will redraw with selected units.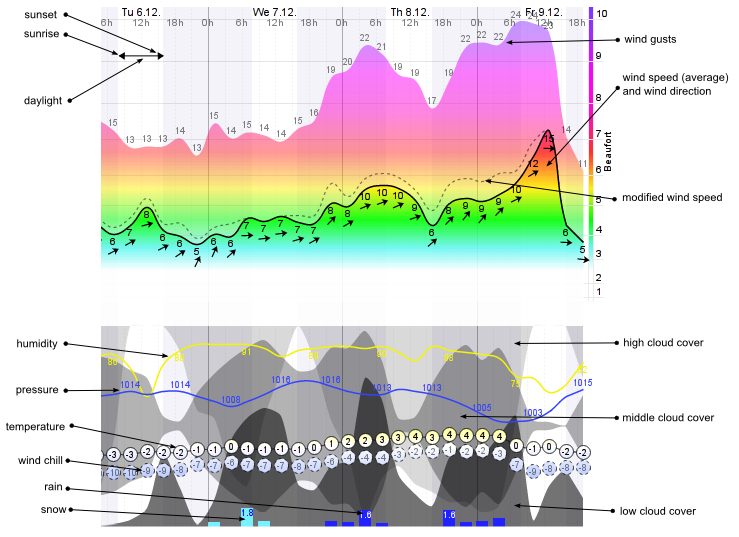 Future plans are to use the graphical display for visualizing temperature profile and wind in higher levels. We also plan to allow users to customize graph appearance because not only wind addicted people watch Windguru and they probably have other preferences.
© 2000 - 2019 www.windguru.cz | Podmínky a pravidla používání | Nápověda | Kontakt |