Von Windguru benutzte Wettermodelle
GFS-Modell
GFS steht für Global Forecast System. Es wird von National Centers for Environmental Prediction (NCEP) betrieben, die eine Abteilung von NOAA (National Oceanic and Atmospheric Administration) und NWS (National Weather Service) in den USA ist. Das GFS-Modell wird viermal am Tag aktualisiert (00 UTC, 06 UTC, 12 UTC und 18 UTC) und bietet eine Vorhersage bis zu 384 Stunden. GFS is a global model so it cover all the Earth! Since January 2015 GFS produce forecasts with resolution of 27 km out to 240 hours.
NAM-Modell
Das North American Mesoscale (NAM) ist ein Modell mittleren Umfangs, welches erweiterte Geländedaten und eine verbesserte Parameterisierung von Oberfläche und Niederschlag verwendet. Es wird ebenfalls vom NCEP betrieben und hieß zunächst Eta, bevor es im Frühjahr 2005 in NAM umbenannt wurde. Windguru verwendet 84-Stunden-Vorhersagedaten in 3-Stunden-Schritten, die Nordamerika mit einer durchschnittlichen Auflösung von 0.11 Grad (etwa 12 km) abdecken. Die Daten werden viermal pro Tag aktualisiert. Eine erheblich höhere Auflösung als GFS sollte für präzisere kurzfristige Vorhersagen sorgen. Karte der Abdeckung:
NAM 12 km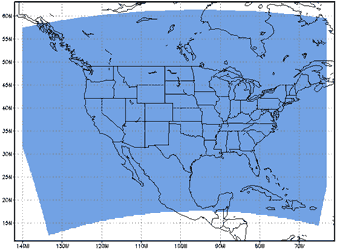 Seit Oktober 2011 wurden von der NOAA/NCEP einige Unterbereiche mit hoher Auflösung zu ihrem NAM-Modell hinzugefügt. Der erste Bereich, den wir auf Windguru verwenden, ist derjenige, der Hawaii mit 3 km Auflösung abdeckt. Die Unterbereiche laufen in der 12-km-Hauptregion von 0 bis 60 Stunden. Allerdings zeigen wir momentan nur die Vorhersagen für die ersten 36 Stunden. Der Grund dafür ist, dass die Ausgabe der ersten 36 Stunden in 1-Stunden-Schritten erfolgt, danach jedoch nur in 3-Stunden-Schritten, und dies lässt sich in den aktuellen Windguru-Vorhersagetabellen nicht kombinieren (möglicherweise aber in der Zukunft). Aktualisierung 4x am Tag.
NAM 3 km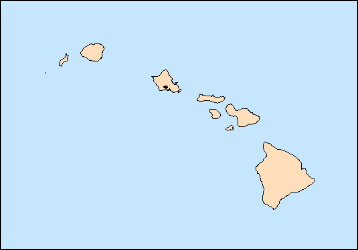 WRF-Modell
Das WRF-Modell (Weather Research and Forecasting) ist ein mittelgroßes numerisches Wettervorhersagesystem der nächsten Generation, das sowohl für die Bedürfnisse der Wettervorhersage als auch der Atmosphärenerforschung geschaffen wurde. WRF ist der Nachfolger des MM5-Modells. Der Entwicklungsaufwand von WRF wurde in partnerschaftlicher Zusammenarbeit des National Center for Atmospheric Research (NCAR), der National Oceanic and Atmospheric Administration (NOAA), dem National Centers for Environmental Prediction (NCEP) und dem Forecast Systems Laboratory (FSL) sowie der Air Force Weather Agency (AFWA), dem Naval Research Laboratory, der Oklahoma University und der Federal Aviation Administration (FAA) betrieben. Mehr Info auf der WRF-Modell Website.
Wir verwenden das WRF-Modell für den größten Teil Europas und den Mittelmeerraum. Die Kanaren, Madeira und ein Teil von Marokkos Atlantikküste werden ebenfalls von WRF mit 9 km Auflösung abgedeckt. Ein weiterer kleiner WRF-Bereich mit 9 km Auflösung deckt das Rote Meer mit beliebten Spots in Ägypten sowie Israel, den Libanon und den Süden Zyperns ab. We also provide WRF 9 km forecasts for East Asia, this domain covers Japan, Korea, Taiwan and east China. Argentina, Chile und Uruguay werden von WRF 12 km abgedeckt. Die Start- und Randbedingungen stammen von GFS. Im Regelfall wird WRF viermal am Tag aktualisiert und liefert in 1-Stunden-Schritten eine Vorhersage für die nächsten 78 Stunden. Die Vorhersagen beinhalten Windstärke und -richtung, Windböen, gesamte Wolkendecke und Niederschlag.
Die höchste Auflösung, die wir derzeit verfügbar halten, ist 3 km. Eine derart hohe Auflösung erfordert eine hohe Rechenleistung und kann daher keinen großen Bereich abdecken. WRF mit 3 km Auflösung deckt die Tschechische Republik ab. Die Vorhersagen reichen bis zu 48 Stunden und werden viermal am Tag aktualisiert. Ein weiterer kleiner 3-km-Bereich deckt die berühmtesten Bereiche für Wind- und Kitesurfing in Europa ab: Tarifa/Straße von Gibraltar.
| | |
| --- | --- |
| Bereich durch WRF mit 27 km Auflösung abgedeckt: | Bereich durch WRF mit 9 km Auflösung abgedeckt: |
| | |
| | |
| --- | --- |
| WRF mit 3 km Auflösung: (Czech rep.) | WRF mit 3 km Auflösung: (Gibraltar) |
| | |
| | |
| --- | --- |
| WRF mit 9 km Auflösung: (Canary) | WRF mit 9 km Auflösung: (Egypt) |
| | |
| | |
| --- | --- |
| WRF mit 9 km Auflösung: (South Africa) | WRF mit 9 km Auflösung: (East Asia) |
| | |
| | |
| --- | --- |
| WRF mit 12 km Auflösung: (Argentina) | |
| | |
HRW-Modell
Das HRW-Modell (High Resolution Window) ist ein durch WRF unterstütztes Vorhersagemodell, das genau wie die oben erwähnten Modelle GFS und NAM von NOAA und NCEP betrieben werden. Wir verwenden Vorhersagedaten, die die Inseln des Hawaii-Archipels mit 5 km horizontaler Auflösung und die USA mit 4 km Auflösung abdecken. Die Vorhersagedauer beträgt 48 Stunden. Die Vorhersagen für Hawaii und den Osten der USA werden zweimal pro Tag aktualisiert (00 UTC und 12 UTC), die Vorhersagen den Westen der USA einmal am Tag (06 UTC). Ein weiteres kleineres HRW 5 km-Gebiet deckt einen Teil der Karibik rund um die Dominikanische Republik und Poerto Rico ab und wird zweimal am Tag aktualisiert (06 UTC und 18 UTC).
Wie Du auf den nachfolgenden Karten sehen kannst, überlappen sich die Bereiche USA (Westen) und USA (Osten) ein gutes Stück. Wenn Du Dir die Vorhersage für einen Spot mitten in den USA ansiehst, der von beiden HRW-Bereichen abgedeckt wird, siehst Du immer die aktuellste verfügbare Vorhersage - entweder von HRWe oder HRWw, abhängig davon, welches gerade am aktuellsten ist. Daher lässt sich sagen, dass das HRW-Modell für die Zentral-USA dreimal am Tag aktualisiert wird (00, 06 und 12 UTC).
Hinweis: Einige oder alle HRW-Vorhersagen werden nicht aktualisiert, wenn die NOAA stattdessen die Hurrikan-Modelle ausführt.
HRW-Vorhersagen sind für alle Benutzer kostenlos!
| | |
| --- | --- |
| HRWw mit 4 km Auflösung: | HRWe mit 4 km Auflösung: |
| | |
| | |
| --- | --- |
| HRW mit 5 km Auflösung: | HRW mit 5 km Auflösung: |
| | |
Letzte Modelldatenaktualisierung:
| | |
| --- | --- |
| GFS 27 km (world): | 15.12.2019 18 UTC |
| NWW3 (waves): | 15.12.2019 18 UTC |
| WRF 27 km (Europe): | 15.12.2019 18 UTC |
| WRF 9 km (Europe): | 15.12.2019 12 UTC |
| WRF 9 km (Canary): | 15.12.2019 18 UTC |
| WRF 9 km (Egypt): | 15.12.2019 18 UTC |
| WRF 9 km (South Africa): | 15.12.2019 12 UTC |
| WRF 9 km (East Asia): | 15.12.2019 12 UTC |
| WRF 12 km (Argentina): | 15.12.2019 12 UTC |
| WRF 3 km (CZ): | 15.12.2019 18 UTC |
| WRF 3 km (Gibraltar): | 15.12.2019 18 UTC |
| NAM 12 km (N.America): | 15.12.2019 18 UTC |
| NAM 3 km (Hawaii): | 16.12.2019 00 UTC |
| HRW 5 km (Hawaii): | 15.12.2019 12 UTC |
| HRW 5 km (Caribbean): | 15.12.2019 18 UTC |
| HRW 4 km (US): | 15.12.2019 12 UTC |
Modellaktualisierungszeitplan:
Modellzyklus:
00 UTC
06 UTC
12 UTC
18 UTC
GFS 27 km (world)
04:50 UTC
10:50 UTC
16:50 UTC
22:50 UTC
NWW3 (waves)
04:50 UTC
10:50 UTC
16:50 UTC
22:50 UTC
WRF 27 km (Europe)
07:55 UTC
13:55 UTC
19:55 UTC
01:55 UTC
WRF 9 km (Europe)
09:20 UTC
15:20 UTC
21:20 UTC
03:20 UTC
WRF 9 km (Canary)
08:10 UTC
14:10 UTC
20:10 UTC
02:10 UTC
WRF 9 km (Egypt)
07:35 UTC
13:35 UTC
19:35 UTC
01:35 UTC
WRF 9 km (South Africa)
08:10 UTC
14:10 UTC
20:10 UTC
02:10 UTC
WRF 9 km (East Asia)
08:55 UTC
14:55 UTC
20:55 UTC
02:55 UTC
WRF 12 km (Argentina)
08:50 UTC
14:50 UTC
20:50 UTC
02:50 UTC
WRF 3 km (CZ)
08:10 UTC
14:10 UTC
20:10 UTC
02:10 UTC
WRF 3 km (Gibraltar)
08:20 UTC
14:20 UTC
20:20 UTC
02:20 UTC
NAM 12 km (N.America)
02:55 UTC
08:55 UTC
14:55 UTC
20:55 UTC
NAM 3 km (Hawaii)
02:15 UTC
08:15 UTC
14:15 UTC
20:15 UTC
HRW 5 km (Hawaii)
04:40 UTC
16:40 UTC
HRW 5 km (Caribbean)
10:45 UTC
22:45 UTC
HRW 4 km (US)
05:25 UTC
17:25 UTC
(Ungefähre Modellaktualisierungszeiten in UTC, aktuelle Zeit ist 16.12.2019 02:22 UTC)
© 2000 - 2019 www.windguru.cz | Nutzungsbedingungen | Hilfe | Kontakt |