Windguru für Windows Mobile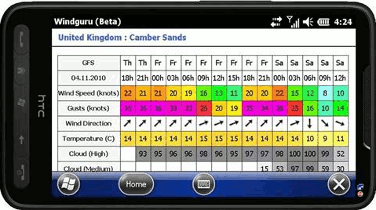 Diese kostenlose Applikation läuft unter Windows Mobile 6.5 auf Touchscreen-Geräten.
Unterstützt folgende Windguru-Funktionen (Version 1.3):
Kostenlose und PRO-Accounts
Spot-Auswahl
Zu/von Favoriten hinzufügen/entfernen
Bevorzugte Spots auflisten
Vorhersagen
Weitere Funktionen:
Zwischenspeichern von Daten
Spot-Karten (mithilfe von Google oder Openstreetmaps)
Auf neuere Version überprüfen
FAQ und weitere Informationen findest du auf fanetic.com.
Systemvoraussetzungen:
Windows Mobile 6.5
Derzeit nur Touchscreen-Unterstützung. Sofern ausreichend Nachfrage besteht, kann die Unterstützung auch auf Geräte ohne Touchscreen erweitert werden.
Herunterladen: windguru_winmobile_1.3.cab (552.4 KB)
Installationsanweisungen:
Lade die Datei windguru_winmobile.cab auf Dein Telefon herunter und speichere sie lokal ab. Tip: Es könnte einfacher sein, wenn Du Dir den Hyperlink per E-Mail zusendest und ihn in Deinem E-Mail-Programm anklickst. (http://www.windguru.cz/downloads/winmobile/windguru_winmobile_1.3.cab)
Derzeit nur Touchscreen-Unterstützung. Sofern ausreichend Nachfrage besteht, kann die Unterstützung auch auf Geräte ohne Touchscreen erweitert werden.
Wähle auf Deinem Telefon Start / Dateiexplorer.
Wechsle zum Verzeichnis, in dem Du die Installationsdatei gespeichert hast.
Wähle die Datei aus – die Installation sollte starten.
Wähle "Ja", um eine Anwendung eines nicht vertrauenswürdigen Anbieters zu installieren.
Wähle entweder das Gerät oder die Speicherkarte für die Installation aus, je nachdem, wo der meiste freie Speicherplatz vorhanden ist.
Neuestes .NET Compact Framework:
Möglicherweise erhältst Du eine Meldung, dass Du eine neuere Version des .NET Compact Framework benötigst. Sollte dies der Fall sein, brauchst Du eine Kopie der Installationsdatei NETCFv35.wm.armv4i.cab, die Du auf einem der folgenden drei Wege beziehen kannst:
Befolge die Installationsanweisungen von Microsoft, wenngleich dies komplizierter als die nächste Option ist.
Der einfachste Weg besteht darin, die Datei direkt herunterzuladen, wie hier detailliert beschrieben.
Sollten die oben erwähnten Optionen nicht funktionieren, kannst Du mit Deiner bevorzugen Suchmaschine nach NETCFv35.wm.armv4i.cab suchen und in den Suchergebnissen Installationsanweisungen finden.
Aus lizenzrechtlichen Gründen dürfen wir keinen direkten Download-Link zu dieser Software bereitstellen.
Getestete Geräte:
Die Applikation wurde auf einem HTC HD2 getestet, läuft aber auch auf anderen Touchscreen-Geräten. Wenn sie bei Dir auf einem anderen Gerät problemlos läuft, teile uns dies bitte mit, damit wir Dein Gerät in die Liste aufnehmen können.
Bekannte Probleme:
Es könnte die Fehlermeldung "Unable to read data from the transport connection. Unknown error (0x0)" (Es konnten keine Daten von der Transportverbindung gelesen werden. Unbekannter Fehler (0x0)) auftreten, selbst wenn Deine Datenverbindung aktiv und stark ist.
Hier besteht möglicherweise das Problem, dass das Microsoft Compact Framework Pakete verliert, wenn es sich mit dem Typ von Webserver verbindet, den Windguru nutzt. Dieses Problem wird bereits untersucht. Wenn dieser Fehler bei Dir auftritt, genügt es häufig, die Verbindung einfach erneut aufzubauen.
Windows Phone 7-Version:
Jetzt auf dem Windows Marketplace verfügbar!
Feedback:
Bitte sende Feedback, Fehlermeldungen und Funktionswünsche an
Nutzungsbedingungen:
Du musst die Endbenutzer-Lizenzvereinbarung und die Nutzungsbedingungen von Windguru akzeptieren.
Entwicklung:
Windguru für Windows Mobile wurde von Justin Drerup (fanetic.com) in seiner Freizeit entwickelt.
Screenshots: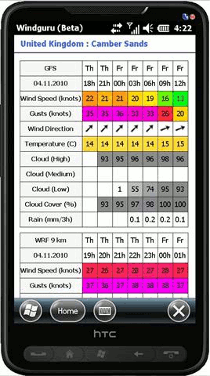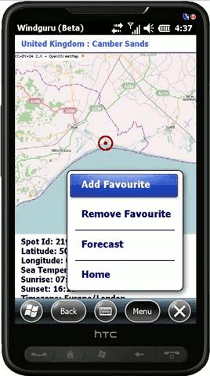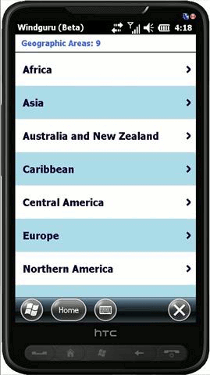 © 2000 - 2019 www.windguru.cz | Nutzungsbedingungen | Hilfe | Kontakt |