Vejr modeller brugt af Windguru
GFS Modellen
GFS står for Global Forecast System. Det er drevet af National Centre for Environmental Prediction (NCEP), som er en enhed af NOAA (National Oceanic og Atmospheric Administration), NWS (National Weather Service), USA. GFS køres fire gange om dagen (00 UTC, 06 UTC, 12 UTC og 18 UTC) med 384 timers horisont. GFS is a global model so it cover all the Earth! Since January 2015 GFS produce forecasts with resolution of 27 km out to 240 hours.
NAM Modellen
Det Nordamerikanske Mesoscale (NAM) er en regional mesoscale model ved hjælp af udvidet terræn og forbedret parameterindstilling af overflade og nedbør processer. Det er også drevet af NCEP, tidligere ETA, men i begyndelsen af 2005 blev det omdøbt til NAM. Windguru bruger 84 timers prognose data i 3 timers skridt, som dækker det nordlige Amerika med gennemsnitlig opløsning på 0,11 grad (ca. 12 km). Opdateringer fire gange om dagen. Langt højere opløsning end GFS bør give mere præcise kortsigtede prognoser. Dæknings kort:
NAM 12 km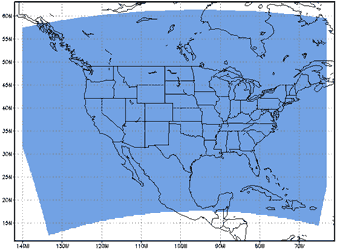 Siden Oktober 2011 har NOAA/NCEP tilføjet flere højopløselige underdomæner til deres NAM model. Det første, vi bruger på windguru er den, der dækker Hawaii i 3 km opløsning. Underdomænerne køre inde i det hoved 12 km domænet fra 0 til 60 timer, men i øjeblikket viser vi kun de første 36 timers prognose, grunden til dette er, at for 0-36h findes output filer allerede i 1 time skridt, mens 36 -60 t. kun findes i 3 timers skridt, og det er ikke så let at kombinere dette i den nuværende windguru prognose tabel (i hvert fald for nu, det vil sandsynligvis ændre sig i fremtiden). Opdateringer sker 4 gange om dagen.
NAM 3 km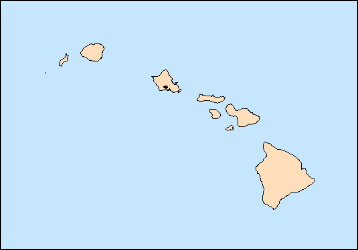 WRF modellen
Weather Research and Forecasting (WRF) modellen er en næste generation mesocale numerisk vejrudsigt system designet til at tjene både operationelle forudsigelser og atmosfærisk forsknings behov. Det er en evolutionær efterfølger til MM5 modellen. Indsatsen for at udvikle WRF har været et samarbejdende partnerskab, hovedsagelig blandt National Center for Atmospheric Research (NCAR), National Oceanic og Atmospheric Administration (National Centre for Environmental Prediction (NCEP) og Forecast Systems Laboratory (FSL), Air Force Vejret Agency (AFWA), Naval Research Laboratory, Oklahoma University, og Federal Aviation Administration (FAA). Mere Information på WRF Model websitet.
We kører WRF model for det meste af Europa og Middelhavsområdet De kanariske øer, Madeira og dele af Marocco's atlanterhavskyst er også dækket af WRF med 9 km opløsning. Et andet mindre WRF 9 km opløsningsområde dækker det nordlige Rødehav med populære steder i Ægypten, smat Israel, Libanon og det sydlige Cypern. We also provide WRF 9 km forecasts for East Asia, this domain covers Japan, Korea, Taiwan and east China. Argentina, Chile og Uruguay er dækket af WRF 12 km. Den iniiale og afgrænsende betingelser kommer fra GFS. Hvis alt går glat opdateres WRF 4 gange om dagen og producerer prognoser for 78 timer ud i fremtiden i 1 time skridt. Prognoserne omfatter vindhastighed og-retning, vindstød, temperatur, total sky dække og nedbør.
Den højeste opløsnings model vi kører nu er 3 km. Så høj en opløsning kræver masiv komputerkraft, så de dækkede område kan ikke være ret stort. WRF med 3 km opløsning dækker den Tjekiske republik, prognoserne gælder for 48 timer og opdateres 4 gange i døgnet. Et andet lille 3 km område dækker en af de mest berømte områder for vind & kitesurfing i Europa - Tarifa / Gibraltar strædet.
| | |
| --- | --- |
| Område dækket af WRF med 27 km opløsning: | Område dækket af WRF med 9 km opløsning: |
| | |
| | |
| --- | --- |
| WRF med 3 km opløsning: (Czech rep.) | WRF med 3 km opløsning: (Gibraltar) |
| | |
| | |
| --- | --- |
| WRF med 9 km opløsning (Canary) | WRF med 9 km opløsning (Egypt) |
| | |
| | |
| --- | --- |
| WRF med 9 km opløsning (South Africa) | WRF med 9 km opløsning (East Asia) |
| | |
| | |
| --- | --- |
| WRF med 12 km opløsning: (Argentina) | |
| | |
HRW model
HRW (High Resolution Window) er en WRF drevet prognosemodel, der er ledet af den amerikanske NOAA/NCEP det samme som GFS og NAM modellerne beskrevet ovenfor. Vi bruger prognose data, der dækker Hawaiis øer med 5 km vandret opløsning og USA med 4 km opløsning. Prognose længden er 48 timer. Prognoser for Hawaii og det østlige USA opdateres to gange om dagen (model opdateres kl. 00 UTC og 12 UTC) og prognoser for det vestlige USA opdateres en gang om dagen (model opdatering kl. 06 UTC). Et andet mindre HRW 5 km område der dækker en del af Caribien ved Den Dominikanske Republik og Puerto Rico og opdateres to gange om dagen (opdateres 06 UTC og 18 UTC).
Som du kan se på kortene nedenfor, Overlapper USA øst og USA's vest områderne en hel del, så hvis du ser prognosen for et punkt et eller andet sted i det centrale USA, som er omfattet af begge HRW domæner vil du altid se de nyeste tilgængelige model prognose - enten fra HRWe eller HRWw afhængigt af, hvilken en der er mest up-to-date. Så vi kan sige, at for central USA er der HRW model opdateringer 3 gange om dagen (kl. 00, 06 og 12 UTC)
Bemærk: Nogle eller alle HRW prognserne bliver ikke opdateret hvis NOAA har behov for at køre tornado modeller istedet.
HRW prognoser er gratis for alle brugere!
| | |
| --- | --- |
| HRWw med 4 km opløsning: | HRWe med 4 km opløsning: |
| | |
| | |
| --- | --- |
| HRW med 5 km opløsning: | HRW med 5 km opløsning: |
| | |
Nuværende model data:
| | |
| --- | --- |
| GFS 27 km (world): | 20.01.2020 12 UTC |
| NWW3 (waves): | 20.01.2020 12 UTC |
| WRF 27 km (Europe): | 20.01.2020 06 UTC |
| WRF 9 km (Europe): | 20.01.2020 06 UTC |
| WRF 9 km (Canary): | 20.01.2020 06 UTC |
| WRF 9 km (Egypt): | 20.01.2020 06 UTC |
| WRF 9 km (South Africa): | 20.01.2020 06 UTC |
| WRF 9 km (East Asia): | 20.01.2020 06 UTC |
| WRF 12 km (Argentina): | 20.01.2020 06 UTC |
| WRF 3 km (CZ): | 20.01.2020 06 UTC |
| WRF 3 km (Gibraltar): | 20.01.2020 06 UTC |
| NAM 12 km (N.America): | 20.01.2020 12 UTC |
| NAM 3 km (Hawaii): | 20.01.2020 12 UTC |
| HRW 5 km (Hawaii): | 20.01.2020 12 UTC |
| HRW 5 km (Caribbean): | 20.01.2020 06 UTC |
| HRW 4 km (US): | 20.01.2020 12 UTC |
Model opdaterings tidsplan:
Model cyklus:
00 UTC
06 UTC
12 UTC
18 UTC
GFS 27 km (world)
04:50 UTC
10:50 UTC
16:50 UTC
22:50 UTC
NWW3 (waves)
04:50 UTC
10:50 UTC
16:50 UTC
22:50 UTC
WRF 27 km (Europe)
07:55 UTC
13:55 UTC
19:55 UTC
01:55 UTC
WRF 9 km (Europe)
09:20 UTC
15:20 UTC
21:20 UTC
03:20 UTC
WRF 9 km (Canary)
08:10 UTC
14:10 UTC
20:10 UTC
02:10 UTC
WRF 9 km (Egypt)
07:35 UTC
13:35 UTC
19:35 UTC
01:35 UTC
WRF 9 km (South Africa)
08:10 UTC
14:10 UTC
20:10 UTC
02:10 UTC
WRF 9 km (East Asia)
08:55 UTC
14:55 UTC
20:55 UTC
02:55 UTC
WRF 12 km (Argentina)
08:50 UTC
14:50 UTC
20:50 UTC
02:50 UTC
WRF 3 km (CZ)
08:10 UTC
14:10 UTC
20:10 UTC
02:10 UTC
WRF 3 km (Gibraltar)
08:20 UTC
14:20 UTC
20:20 UTC
02:20 UTC
NAM 12 km (N.America)
02:55 UTC
08:55 UTC
14:55 UTC
20:55 UTC
NAM 3 km (Hawaii)
02:15 UTC
08:15 UTC
14:15 UTC
20:15 UTC
HRW 5 km (Hawaii)
04:40 UTC
16:40 UTC
HRW 5 km (Caribbean)
10:45 UTC
22:45 UTC
HRW 4 km (US)
05:25 UTC
17:25 UTC
(Omtrentlig model opdatering tider i UTC, nuværende tidspunkt er 20.1.2020 17:51 UTC)
© 2000 - 2020 www.windguru.cz | Betingelser og vilkår | Hjælp | Kontakt |