Windguru mobile version is optimized for touchscreen devices - smartphones or tablets. The purpose of this site is to get easily to your Windguru forecast using the touch screen. Windguru mobiiliversioon peaks töötama enamike tänapäevaste mobiilibrauseritega kuid siiski pidage seda beetaversiooniks. Ilmneda võivad vead, palun vabandust võimalike probleemide pärast.
Windguru mobiiliversioon on ehitatud kasutades jQuery Mobile raamistikku. Funktsionaalsus erinevate telefonide brauserites sõltub brauseri omadustest ning tema jQuery Mobile toest. Raamistik jQuery Mobile on endiselt arenduses ning ainult beetastaadiumis, see on üks põhjusi miks navigeerimise käigus võib esineda probleeme.
Kui olete kasutanud Windguru WAP2 version, peaksite Windguru mobiiliversiooniga ka tuttav olema. Mobiiliversioon on väga sarnane kuid on mugavam kasutada. Samalaadselt WAP2 versiooniga on võimalik anonüümne kasutus kui ka sisselogimine nägemaks oma lemmikuid ja PRO ennustusi PRO tellimuse olemasolu korral.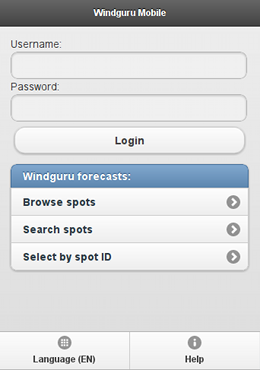 © 2000 - 2019 www.windguru.cz | Kasutustingimused | Abi | Kontakt |