Modelos meteorológicos utilizados por Windguru
Modelo GFS
GFS significa Global Forecast System. Depende de National Centers for Environmental Prediction (NCEP) que es una unidad de NOAA (National Oceanic and Atmospheric Administration), NWS (National Weather Service), USA. GFS funciona en cuatro tramos por día (00 UTC, 06 UTC, 12 UTC, y 18 UTC) hasta 384 horas.. GFS is a global model so it cover all the Earth! Since January 2015 GFS produce forecasts with resolution of 27 km out to 240 hours.
Modelo NAM
La Mesoescala Norteamericana (NAM) es un modelo regional de mesoescala que utiliza una parametrización mejorada de la superficie y de los procesos de precipitación. Está también dirigido por el NCEP, anteriormente su nombre fué Eta, pero en 2005 fué renombrado a NAM. Windguru utiliza previsiones de 84 horas en intervalos de 3 horas lo cual cubre NorteAmérica con una resolución de 0,11 grados (unos 12 km). Actualiza cuatro veces al dia. Una resolución mucho mayor que el GFS debería dar partes a corto plazo más exactos. Mapa de cobertura:
NAM 12 km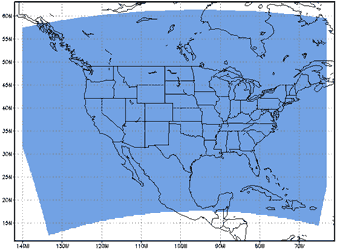 Desde Octubre de 2011 NOAA/NCEP añadió varios subdominios de alta resolución a su modelo NAM. La primera que usamos en Windguru fue la que cubre Hawai con resolución de 3 km. Los subdominios funcionan dentro del dominio principal de 12 km desde 0 a 60 h, pero de momento sólo mostramos la previsión de las primeras 36 horas. La razón para ello es que durante las primeras 36 horas los datos vienen de hora en hora mientras que de 36 h a 60 h vienen de tres en tres horas, y no es facil combinar ambas en las tablas actuales de Windguru (por lo menos por ahora). Se actualiza 4 veces diarias.
NAM 3 km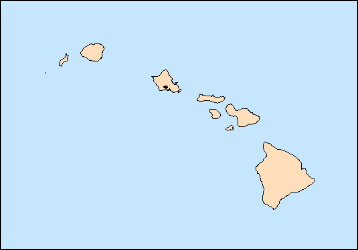 Modelo WRF
El modelo de investigación y previsión del tiempo (Weather Research and Forecasting -WRF-) es un sistema de predicción numérico de mesoscala de nueva generación, diseñado para servir previsiones operacionales y necesidades de estudio de la atmósfera. Es sucesor del modelo MM5. El esfuerzo para desarrollar WRF ha sido un esfuerzo colaborativo, principalmente por el National Center for Atmospheric Research (NCAR), la National Oceanic and Atmospheric Administration , los National Centers for Environmental Prediction (NCEP) y el Forecast Systems Laboratory (FSL), la Air Force Weather Agency (AFWA), la Naval Research Laboratory, Oklahoma University, y la Federal Aviation Administration (FAA). Más información en la web del modelo WRF.
El modelo WRF está cubriendo casi toda Europa y el Mediterraneo. Las Islas Canarias, Madeira y parte de la costa Atlántica de Marruecos también están cubiertas por WRF 9 km. Otra área más pequeña de WRF 9 km cubre el Mar Rojo Norte con los famosos spots de Egipto, y también Israel, Líbano y sur de Chipre. We also provide WRF 9 km forecasts for East Asia, this domain covers Japan, Korea, Taiwan and east China. Argentina, Chile y Uruguay cubiertas por WRF 12 km. Las condiciones iniciales y los lindes vienen de GFS. Si todo va bien WRF se actualiza 4 veces diarias y ofrece previsiones para 78 horas en tramos de 1 hora. Las previsiones incluyen velocidad, dirección y rafagas de viento, temperatura, nubosidad total y precipitaciones.
El modelo de más alta definición que tenemos ahora es de 3 km. Dicha alta resolución implica muchos cálculos luego la zona cubierta no puede ser muy grande. WRF 3 km cubre la República Checa, las previsiones son para las próximas 48 horas y se actualiza 4 veces diarias. Otro pequeño dominio de 3 km cubre una de la zonas más famosas de windsurf y kitesurf de Europa: Tarifa/Estrecho de Gibraltar
| | |
| --- | --- |
| Area cubierta por WRF con resolución 27 km: | Area cubierta por WRF resolución 9 km: |
| | |
| | |
| --- | --- |
| WRF con resolución 3 km: (Czech rep.) | WRF con resolución 3 km: (Gibraltar) |
| | |
| | |
| --- | --- |
| WRF con resolución 9 km: (Canary) | WRF con resolución 9 km: (Egypt) |
| | |
| | |
| --- | --- |
| WRF con resolución 9 km: (South Africa) | WRF con resolución 9 km: (East Asia) |
| | |
| | |
| --- | --- |
| WRF con resolución 12 km: (Argentina) | |
| | |
Modelo HRW
HRW (High Resolution Window) está alimentado por el modelo de previsión WRF, que lleva a cabo NOAA/NCEP americana al igual que los modelos GFS y NAM descritos arriba. Usamos datos de previsión que cubren las Islas Hawai con resolución horizontal de 5 km y Estados Unidos con resolución 4 km. La previsión es de 48 horas. Las previsiones para Hawai y Este de EE.UU. se actualizan dos veces diarias (ciclos de modelo 00 UTC y 12 UTC) y las previsiones para EE.UU Oeste una vez al día (ciclo de modelo 06 UTC). Otro dominio HRW 5 km más pequeño cubre parte del Caribe alrededor de República Dominicana y Puerto Rico, se actualiza dos veces diarias ( ciclos 06 UTC y 18 UTC).
Como se puede ver en los mapas debajo, las areas Este y Oeste de EE.UU. se solapan bastante, luego si miras la previsión de algún spot en la parte central que está cubierto por ambos mapas HRW, siempre se mostrará la previsión más actualizada tanto si es la del Este como si es la del Oeste. Podemos decir, entonces, que la previsión HRW de la parte central de EE.UU se actualiza 3 veces diarias (ciclos 00 UTC, 06 UTC y 12 UTC).
Nota: Alguna o todas las previsiones HRW no se actualizarán si NOAA necesita hacer simulaciones con Huracanes.
Las previsiones HRW son gratuitas para todos los usuarios!
| | |
| --- | --- |
| HRWw con resolución 4 km: | HRWe con resolución 4 km: |
| | |
| | |
| --- | --- |
| HRW con resolución 5 km: | HRW con resolución 5 km: |
| | |
Modelos de datos actuales:
| | |
| --- | --- |
| GFS 27 km (world): | 29.01.2020 06 UTC |
| NWW3 (waves): | 29.01.2020 06 UTC |
| WRF 27 km (Europe): | 29.01.2020 06 UTC |
| WRF 9 km (Europe): | 29.01.2020 00 UTC |
| WRF 9 km (Canary): | 29.01.2020 00 UTC |
| WRF 9 km (Egypt): | 29.01.2020 00 UTC |
| WRF 9 km (South Africa): | 29.01.2020 00 UTC |
| WRF 9 km (East Asia): | 29.01.2020 00 UTC |
| WRF 12 km (Argentina): | 29.01.2020 00 UTC |
| WRF 3 km (CZ): | 29.01.2020 06 UTC |
| WRF 3 km (Gibraltar): | 29.01.2020 00 UTC |
| NAM 12 km (N.America): | 29.01.2020 06 UTC |
| NAM 3 km (Hawaii): | 29.01.2020 06 UTC |
| HRW 5 km (Hawaii): | 29.01.2020 00 UTC |
| HRW 5 km (Caribbean): | 29.01.2020 06 UTC |
| HRW 4 km (US): | 29.01.2020 00 UTC |
Tabla de actualización de modelos::
ciclo del modelo:
00 UTC
06 UTC
12 UTC
18 UTC
GFS 27 km (world)
04:50 UTC
10:50 UTC
16:50 UTC
22:50 UTC
NWW3 (waves)
04:50 UTC
10:50 UTC
16:50 UTC
22:50 UTC
WRF 27 km (Europe)
07:55 UTC
13:55 UTC
19:55 UTC
01:55 UTC
WRF 9 km (Europe)
09:20 UTC
15:20 UTC
21:20 UTC
03:20 UTC
WRF 9 km (Canary)
08:10 UTC
14:10 UTC
20:10 UTC
02:10 UTC
WRF 9 km (Egypt)
07:35 UTC
13:35 UTC
19:35 UTC
01:35 UTC
WRF 9 km (South Africa)
08:10 UTC
14:10 UTC
20:10 UTC
02:10 UTC
WRF 9 km (East Asia)
08:55 UTC
14:55 UTC
20:55 UTC
02:55 UTC
WRF 12 km (Argentina)
08:50 UTC
14:50 UTC
20:50 UTC
02:50 UTC
WRF 3 km (CZ)
08:10 UTC
14:10 UTC
20:10 UTC
02:10 UTC
WRF 3 km (Gibraltar)
08:20 UTC
14:20 UTC
20:20 UTC
02:20 UTC
NAM 12 km (N.America)
02:55 UTC
08:55 UTC
14:55 UTC
20:55 UTC
NAM 3 km (Hawaii)
02:15 UTC
08:15 UTC
14:15 UTC
20:15 UTC
HRW 5 km (Hawaii)
04:40 UTC
16:40 UTC
HRW 5 km (Caribbean)
10:45 UTC
22:45 UTC
HRW 4 km (US)
05:25 UTC
17:25 UTC
(Horas UTC de actualización de los modelos, la hora actual es 29.1.2020 13:57 UTC)
© 2000 - 2020 www.windguru.cz | Términos y condiciones | Ayuda | Contacto |