Windguru para Windows Phone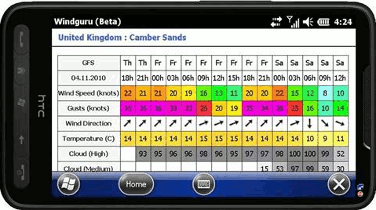 Esta aplicación está disponible y es gratuita para los dispositivos Windows Mobile 6.5 Touch Screen
Soporta las siguientes características de Windguru (versión 1.3):
Cuentas gratuitas y PRO
Selección de spot
Añadir y quitar favoritos
Lista de spots favoritos
Previsiones
Otras características:
Almacenamiento de datos en caché
Mapas de los spots (usando Google o Openstreet maps)
Comprobar nuevas versiones
FAQ y más información en fanetic.com
Requisitos del Sistema:
Windows Mobile 6.5
De momento sólo soporta touch Screen aunque, si hay suficiente demanda, se podría extender el soporte a pantallas no táctiles.
Descarga: windguru_winmobile_1.3.cab (552.4 KB)
Instrucciones de Instalación:
Bajarse el fichero windguru_winmobile.cab desde el teléfono y guardarlo en local. Truco: puede ser útil autoenviarse el enlace por email y hacer click en él desde el email (http://www.windguru.cz/downloads/winmobile/windguru_winmobile_1.3.cab)
De momento sólo soporta touch Screen aunque, si hay suficiente demanda, se podría extender el soporte a pantallas no táctiles.
En tu teléfono, haz click en Inicio / Explorador de archivos.
Buscar la ubicación del archivo de instalación.
Seleccionar el archivo – debería comenzar la instalación.
Selecciona "SI" para permitir la instalación desde un sitio de no confianza
Si se pregunta, seleccionar el aparato o la tarjeta de memoria para la instalación – lo que tenga más espacio disponible.
Ultimo .NET Compact Framework:
Podrías recibir un mensaje diciendo que necesitas una nueva versión del .NET Compact Framework. En este caso necesitas obtener una copia del archivo de instalación NETCFv35.wm.armv4i.cab. Puedes hacelo de tres formas:
Siguiendo las instrucciones de instalación de Microsoft, aunque ésta opción es más complicada que la siguiente.
Lo más fácil es bajarte el archivo directamente, más detalles aquí
Si las opciones 1 y 2 no funcionan, busca el archivo NETCFv35.wm.armv4i.cab en tu buscador preferido y haz click en un enlace de instrucciones de instalación.
No nos es posible suministrar un enlace directo a la descarga ya que no disponemos de licencia de distribución de este software.
Verificaciones:
La aplicación se ha probado en un HTC HD2, aunque sabemos que funciona adecuadamente en otros dispositivos táctiles. Si la pruebas con exito en otro dispositivo, te rogamos que nos lo hagas saber para incluirlo en la lista.
Problemas conocidos:
Podrías obtener el error: "Unable to read data from the transport connection. Unknown error (0x0) / Imposible obtener datos mediante esta conexión. Error desconocido (0x0)" incluso cuando tu conexión está activa y potente.
Parece ser un problema de Microsoft Compact Framework soltando paquetes cuando se conecta al tipo de servidor que usa Windguru. Estamos investigando sobre ello. Si te da este error, inténtalo de nuevo y normalmente desaparecerá el error.
Windows Phone versión 7:
Ahora disponible en Windows Marketplace!
Evaluación:
Por favor, enviar comentarios, errores y nuevas ideas a
Condiciones de uso:
Es necesario aceptar el Contrato de Licencia para Usuario Final (CLUF / EULA) y los Treminos y Condiciones de Windguru.
Desarrollo:
La aplicación Windguru para Windows Mobile ha sido creda por Justin Drerup (fanetic.com) en su tiempo libre.
Capturas: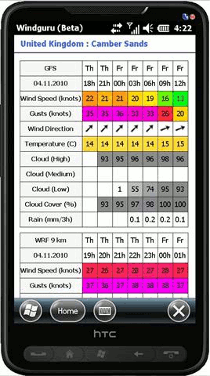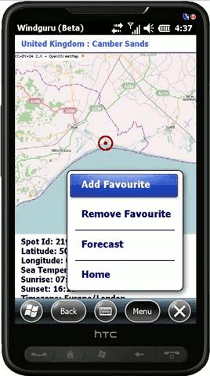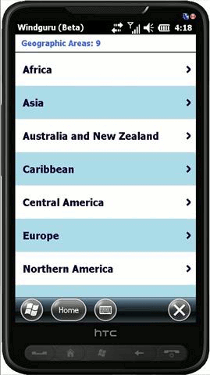 © 2000 - 2020 www.windguru.cz | Términos y condiciones | Ayuda | Contacto |