Windguru pour Windows Mobile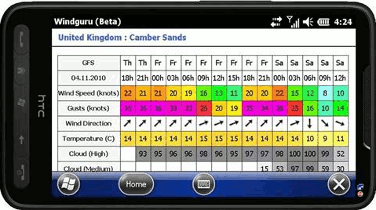 Cette application est disponible gratuitement pour les appareils Windows Mobile 6.5 avec écran tactile.
Offre les fonctions Windguru suivantes (version 1.3):
Comptes free et PRO
Sélection du spot
Ajouter/supprimer des favoris
Liste des favoris
Prévisions
Autres fonctions:
Conservation des résultats en mémoire locale (cache)
Cartes des spots (à l'aide de Google ou Openstreet maps)
Vérifier s'il y a une version plus récente
FAQ et plus d'infos sur le site web fanetic.com
Configuration requise:
Windows Mobile 6.5
Un écran tactile est nécessaire à l'heure actuelle. S'il y a suffisamment de demande le logiciel pourra être étendu aux écrans non-tactiles.
Télécharger: windguru_winmobile_1.3.cab (552.4 KB)
Instructions d'installation:
Télécharger le fichier windguru_winmobile.cab sur votre téléphone. Note: il est dans certains cas plus facile de vous envoyer à vous-même le lien hypertexte, puis de cliquer dessus dans votre lecteur de mail. (http://www.windguru.cz/downloads/winmobile/windguru_winmobile_1.3.cab)
Un écran tactile est nécessaire à l'heure actuelle. S'il y a suffisamment de demande le logiciel pourra être étendu aux écrans non-tactiles.
Sur votre téléphone, cliquez sur Démarrer / Explorateur de fichiers.
Naviguez jusqu'à l'endroit où vous avez téléchargé le fichier d'installation.
Sélectionnez ce fichier - cela devrait démarrer l'installation.
Répondez "oui" lorsqu'on vous demande l'autorisation d'installer une application d'un éditeur inconnu.
Si l'on vous le demande, choisissez entre une installation dans la carte mémoire ou sur l'appareil lui-même - selon votre préférence et la place disponible.
Mise à jour .NET Compact Framework:
Il est possible que vous receviez un message disant que vous avez besoin de mettre à jour .NET Compact Framework. Si c'est le cas vous devez télécharger et installer le fichier NETCFv35.wm.armv4i.cab. Voici trois manières possibles:
Vous pouvez suivre les instructions fournies par Microsoft, mais ça n'est pas le plus facile.
Le plus simple est de télécharger le fichier directement, des explications sont disponibles ici
En dernier recours, vous chercher NETCFv35.wm.armv4i.cab avec votre moteur de recherche préféré et suivre les instructions trouvées.
Nous ne pouvons pas fournir un lien direct vers le fichier car nous n'avons pas la permission de distribuer ce logiciel.
Testé sur:
Cette application a été testée sur un HTC HD2 mais elle fonctionne aussi sur d'autres appareils à écran tactile. Si jamais vous réussissez à le faire marcher sur un autre type d'appareil alors dites-le nous que nous puissions l'ajouter à la liste.
Problèmes connus:
Il est possible que vous obteniez un message "Unable to read data from the transport connection. Unknown error (0x0)" même lorsque votre connexion est active et très bonne (NdT: merci de m'envoyer le message en français si jamais vous le voyez)
Ce problème semble être dû au Microsoft Compact Framework qui perd des paquets de données lorsqu'il se connecte au type de logiciel serveur que Windguru utilise. Ce problème est en cours d'investigation. Si jamais vous voyez cette erreur, il suffit en général de ré-essayer et ça passe.
Version pour Windows Phone 7:
Disponible maintenant sur Windows Marketplace!
Vos réactions:
Merci d'envoyer tout commentaire, rapport de bug ou autre requête à
Conditions d'utilisation:
Vous devez accepter la licence et les conditions d'utilisations de Windguru.
Développeur:
L'application Windguru pour Windows Mobile a été conçue et réalisée pendant son temps libre par Justin Drerup (fanetic.com).
Captures d'écran: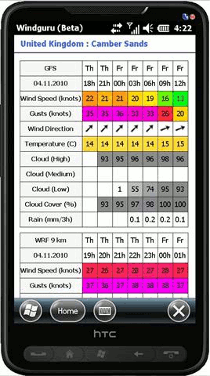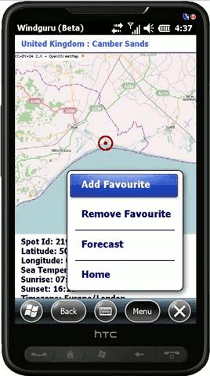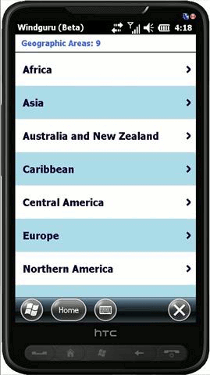 © 2000 - 2020 www.windguru.cz | Conditions générales | Aide | Contact |