Hírek
(A híreket megkaphatja RSS feedként: itt)
25.9.2015
micro.windguru.cz, a Windguru minimál verziója.
A "micro" oldalt elsősorban a nyílttengeri vitorlázóknak szántuk akik csak nagyon korlátozott sávszélességű internetkepcsolattal rendelkeznek műholdon vagy rádión. Az itteni előrejelzések annyira kis méretűek amennyire lehet, és csak szöveget tartalmaznak. Megnézhetők az előrejelzések bármely regisztrált Windguru helyre vagy bármely kiválasztott szélesség / hosszúság koordinátára (csak PRO felhasználóknak).
18.9.2015
WRF 9 km felbontással! Kelet Ázsiai előrejelzés. (Csak PRO felhasználók)
A lefedett terület térképen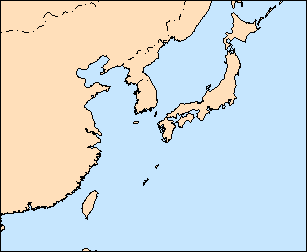 14.1.2015
NOAA/NCEP nagy fejlesztést hajtott végre a GFS modell frissítésekben. Az előrejelzések már a teljes Földet lefedik 27 km felbontással. Az előrejelzési időtávot is kiterjesztettük 10 napra.
This is a big upgrade that affect not only windguru, but all the sites that rely on GFS (most of weather sites on the internet ;-), if you were used to make decisions based on GFS you should reconsider the way how you interpret the forecasts for your spot now, it may take a while to get used to the new forecasts.
Remélem hogy ez egy jó lépés a világszerte használható előrejelzések javítására!
30.11.2013
Prices for Windguru PRO are now in EUR, you can also choose to pay in USD or CZK (price will recalculate according to latest official exchange rate). The shortest subscription is now 1 month.
10.9.2013
By the end of July NOAA changed the output of their NWW3 models, since then many people complained about exaggerated wave forecasts of the coarse (1.25 x 1.0 degree resolution) data which we had inside GFS forecast. To eliminate this problem NWW3 50 km is now the default that displays inside GFS forecasts, this dataset seems to be more accurate. (A regisztrált felhasználók rögzíthetik a kedvelt beállításaikat.)
7.8.2013
Gyors hely választás. Now we have a more comfortable spot selection tool. This little input field in the main spot menu and other places throughout the website is made to pick a spot as fast as possible. Bye bye long and complicated menus...
gyors hely keresődobozra, azonnal javasol 3 csoportot a helyekből amit valószínűleg ki fog választani (ha önnek vannak ilyenei):

1. Last 5 used spots (sorted by last use, yellow)

2. Az Ön kedvenc helyei (az ikon csillaggal)

3. Az Ön saját helyei (zöld)

You can use [up] and [down] arrow keys to select spot and confirm with [enter] key, or pick s spot by mouse. First item is always pre-selected - just hit [enter] to confirm.

Ahogy elkezdi begépelni a hely nevét az ennek megfelelő helyeket szűri ki a listából.
Once you enter 3 or more characters it will search all the spots available on windguru and update the list accordingly.

Different kind of spots are marked by different colors and little windguru icons for easier navigation. If found, spots are sorted by importance and then alphabetically. Your favourite and custom spots come first, followed by "official" windguru spots (blue icons) and then custom spots entered by other users (grey icons).

We keep the older spot menu and favorite menus of course, but this new quick spot tool is now the default.

Hope you like it! :)
6.4.2013
NWW3 50 km resolution wave model forecasts Especially surfers might be interested in this new addon... As you might already know the wave forecasts on windguru are powered by NWW3 model from NOAA and we only used their data with 1 latitude x 1.25 longitude degree resolution. Maybe you still remember... long time ago we tried to switch to the higher (0.5 x 0.5 degree) resolution model from NOAA, but after several complaints about aaccuracy of the new forecasts we reverted back. But... advantage of the higher resolution NWW3 model is that it not only offers the basic parameters (wave height, direction and period) but also distinguish different components: primary swell, secondary swell and wind waves. The coarse resolution NWW3 data do not have this.
Now we have both. By default we show the new 50 km NWW3 model as a separate table under the GFS forecast and the GFS forecast still includes the older NWW3 100 km resolution data, same as before. If you have other preference simply go to settings -> preferences where you can configure how to display waves (registered users only). You can choose which data to include inside GFS forecasts and which wave models to display as separate tables.
If you have some custom spots and want to have wave forecasts for them, you should now visit the settings section to check their wave forecast configuration.

15.3.2013
Saját színek az előrejelzésekben. The default colors in the forecasts were selected very carefully and we believe this is the best for average windsurfer or kiter. In case you have other preference, you now have an option, feel free to edit colors anyhow according to your personal taste. See settings -> colors. (csak regisztrált felhasználók)

24.1.2013
WRF 3 km resolution! forecasts for Gibraltar/Tarifa. Az előrejelzések 48 órára érhetők el és naponta négyszer frissülnek. (Csak PRO felhasználók)
A lefedett terület térképen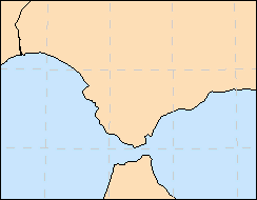 22.1.2013
WRF előrejelzések a Kanári-szigetekre és Egyitpomra tartalmazzák a szél és hőmérsékleti profil helyeket is (ld a 2D fület az előrejelzéseken)
12.1.2013
WRF 12 km for Argentina now updates 4 times per day and include wind and temperature profile plots (see 2D tab on forecasts).
26.11.2012
A hivatalos Windguru app Androidra. Nagyon egyszerű és hasonló a mobil site-hoz touch.windguru.cz. Az app fő célja a windguru előrejelzések egyszerű megjelenítése a telefonon vagy tableten. Nincs túl sok funkciója (legalábbis jelenleg), de azt csinálja, amire a legnagyobb szükségünk van: megjeleníti a szokásos formában az előrejelzést :-)
Fő funkciók:
Hagyományos windguru előrejelzési táblák
Sávszélesség spórolás. Az app minimalizálja a letöltéseket, így még lassú internet kapcsolattal is működik.
Támogatja a hálózat nélküli (offline) használatot. Offline módban az app meg tudja jeleníteni a korábban letöltött előrejelzéseket.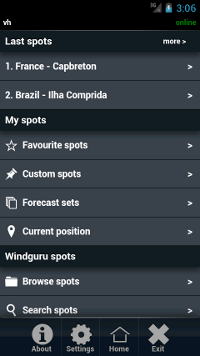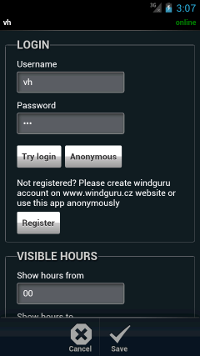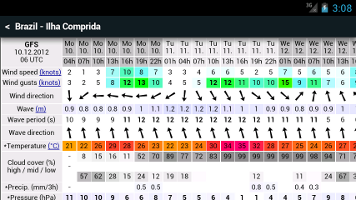 The plan is to release official apps for all major platforms and all these apps should look and work same or at least very similiar.
Please note that some Windguru apps already exist for several platforms (Android, iPhone, Windows Mobile, Windows Phone) - Lásd a Súgóban. These apps are made by external partners and still are and will be supported by Windguru as alternatives.
19.11.2012
Kis javítások.
Az email üzenetek már a nyomás értéket mint paramétert is támogatják.
A WRF archívumok már csapadékot és felhőzetet is tartalmaznak.
Started process of unifiyng the appearance of the forecast maps, previously the WRF maps were generated by different software and looked a little different than maps we made for GFS, NAM etc., we want to make all the maps look same. At the moment we changed maps for WRF 9 km model for Europe and WRF 3 km for Czech republic. The other WRF models should follow soon. For Europe we now have a little different detailed maps then before and also added 4 maps that show larger areas at once (NW, NE, SW and SE of Europe), should be useful to get a better overview of the forecast.
13.11.2012
WRF 9 km resolution! forecasts for South Africa. (Csak PRO felhasználók)
A lefedett terület térképen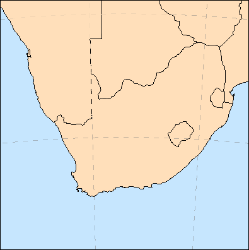 18.1.2011
Kis frissítés az Email riasztások. Alerts now support conditions for wind gusts, and waves (NWW3 model).
9.1.2012
Wind and temperature profile plots. Now you can see what wind and temperature is forecasted in different altitudes. Mouse over the "2D" tab on the forecast to select the profile. Same as the graphs introduced recently, the plots are drawn by the browser, SVG graphics support is required (all browsers except Internet Explorer 8 or below).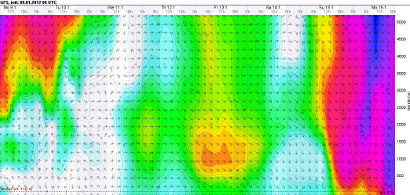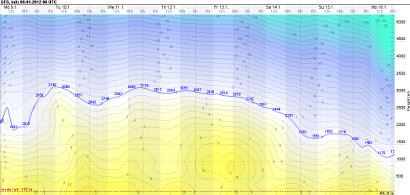 1.12.2011
Előrejelzés grafikus verzió. Most már az előrejelzéseket grafikonon is lehet nézegetni, ehhez kattintson a graph ikonra az előrejelzési táblák felső menüjében.

A weboldal kezdeti megalkotása óta a Windguru kulcseleme az előrejelzés színes táblázatos megjelenítése volt, rengeteg számmal. Azt gondolom ez a jövőben is így marad, annak ellenére, hogy néhányan ódivatúnak tarthatják, de a táblázat rengeteg információt és részletet meg tud jeleníteni kis helyen, miközben tisztán és áttekinthetően olvasható. Azonban miért is ne adjunk alternatív megjelenítési lehetőséget? Az előrejelzési grafikon egy új, szemgyönyörködtető képet mutat :-) és néhány ember ezt szereti.
Ha a grafikus megjelenítést akarja alapértelmezetten használni, a főoldalról nyíló " Beállítások " menüben rögzítheti.
Fontos megjegyzés: A böngészőjének támogatnia kell a SVG graphics -t a grafikus előrejelzések megjelenítéséhez. Az összes korszerű böngésző (Chrome, Firefox, Opera, Safari, IE 9) rendben van, de ha Ön Internet Explorer 8-at vagy régebi verziót használ, akkor nem fog működni; kérem, váltson jobb böngészőre ebben az esetben.
Az a jó hír, hogy a grafikonok nem sima ábrákként vannak megjelenítve, amihez sok adatot kellene letölteni, hanem a böngésző maga rajzolja, így meglehetősen sávszélesség takarékos, ami kedvező a lassú internet kapcsolattal rendelkezőknek.
Grafikon példa
Amit lent láthat, az az első verziója a grafikus megjelenítésnek (valószínűleg nem végleges, arra számítunk, hogy finomhangolása következik a jövőben).
Két fő rész van a grafikonon, a felső rész a legfontosabb = szél adatokat jeleníti meg, az alapján skálázódik, hogy mennyi szél várható, erős szél előrejelzésnél nagyobb, ha nincs túl sok szél, akkor kisebb a megjelenése.
Az alsó rész a "kevésbé fontos" paramétereket mutatja, mint hőmérséklet, felhők, csapadék, nyomás és nedvesség - mind egy grafikonban a hely takarékosság miatt.A felhő fedettség egy kicsit speciális, így egy kicsit több magyarázatot igényel; alacsony felhők sötétszürkében a grafikon aljától vannak kirajzolva, a magas felhők világosszürkével a tetejétől, míg a középmagas felhők középszürkével a vízszintes középvonaltól felfelé és lefelé vannak feltüntetve. Ha ezek bármelyike teljesen megtölti a területet, az 100% felhő fedettséget jelent az adott szintű felhőből. Minden felhő réteg félátlátszó, így ha sok felhő van mindegyik rétegben, akkor az egész grafikon majdnem feketévé válik, ezzel jelezve, hogy sok a felhő. Minél sötétebb annál több felhő van előrejelezve és még azt is lehet látni, hogy az egyes rétegeknek mennyi a hozzájárulása.
Jelenleg a mértékegységek a szélsebességre és a hőmérsékletre a klasszikus táblázatos előrejelzésével megegyeznek, ha ideiglenesen változtatni akar rajta, akkor térjen vissza a normál előrejelzéshez, módosítsa a mértékegységet a kívántra és nyissa meg újra a grafikon fület, amire újra fogja rajzolni a kiválasztott mértékegységekkel.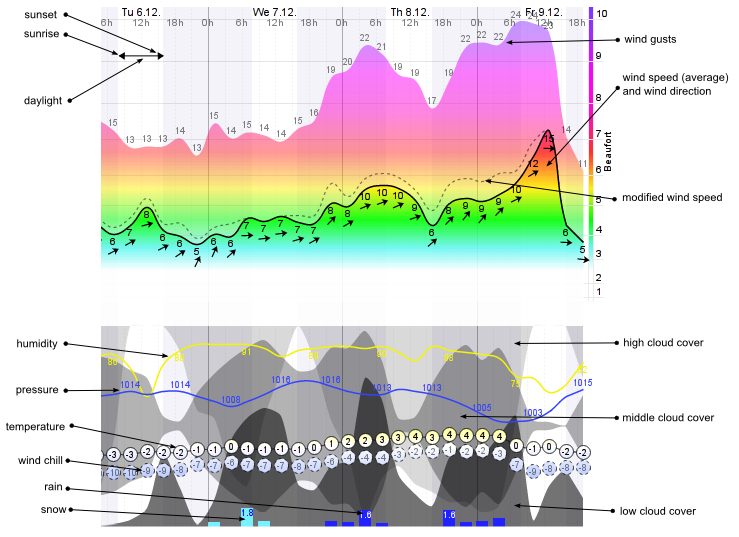 Jövőbeli terveink között van a grafikus kijelzés használata a hőmérséklet profilokra és nagyobb magasságú szelekre. Ezenkívül a felhasználók módosíthatják majd a grafikon megjelenését mivel a Windgurut nem csak szélmániás emberek nézik és feltehetően nekik más fontos.
Ha van ötlete vagy véleménye az új grafikonokról, kérem jelezze nekünk: itt!. Köszönjük!
20.11.2011
NAM 3km felbontású modell előrejelzés Hawaiira! Frissítés naponta 4-szer. Ingyenes minden felhasználónak.
A lefedett terület térképen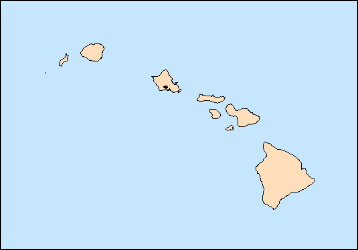 3.9.2011
Az előrejelzés beillesztéshez új verzió áll rendelkezésre a webmesterek számára. Az új verziójú előrejelzés beillesztést ajánljuk, ha a Windgurut be akarja illeszteni a weboldalába. Nagyon egyszerű... csak másolja be a megfelelő HTML kódot a weboldalába és kész. Itt tudja lemásolni az előrejelzés kódot!
20.7.2011
Windguru Mobile (beta). A Windguru mobil verziója érintőképernyős eszközökre van optimálva - okostelefonokra és tabletekre. A webhely célja, hogy a Windguru előrejelzéseket könnyen tudja nézegetni érintőképernyőn. Windguru Mobil működik a legtöbb modern böngészővel, de kérem vegye figyelembe, hogy ez még csak egy béta verzió. Jelentkezhetnek hibák, kérem bocsásson meg az esetleges kényelmetlenségekért.
Itt próbálhatja ki: http://touch.windguru.cz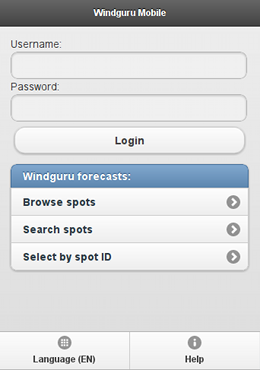 16.5.2011
Wind / wave direction now displayed with higher precision. This is a tiny update which you will hardly notice but can be useful... Till now windguru only displayed 16 different arrows for direction (22.5 degree precision), now it can display it exactly without this limit. Your browser must support SVG graphics to see the difference (all better browsers do support it - Chrome, Firefox, Opera, Safari... if you use Internet Explorer then you need the current version 9, older IE versions will not work)

14.5.2011
HRW 5 km resolution model forecasts for part of Caribbean. Covers area around Dominican republic and Puerto Rico. This high-resolution model updates twice per day and offers forecast for 48 hours with 1 hour step. Ingyenes minden felhasználónak
A lefedett terület térképen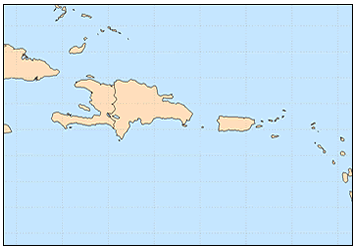 17.2.2011
Windguru a Windows Phone 7 rendszerre. A Windows Phone Boltból tudja letölteni, INGYEN! Az applikáció fejlesztője Justin Drerup (fanetic.com).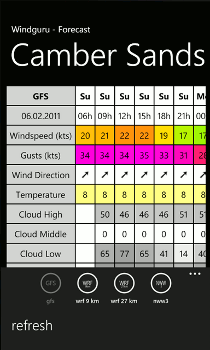 21.1.2011
Email riasztások! Nem akarja elmulasztani a legjobb előrejelzéseket a helyére? Állítson be windguru email riasztásokat és bármikor teljesülnek a kívánt feltételek, emailt fogunk küldeni Önnek. (A WRF modellen alapuló riasztásokat csak a PRO felhasználók állíthatnak be)
18.11.2010
WRF 3km felbontással a Cseh Köztársaságra! Such a high resolution requires a lot of computing so the domain can't cover a large area, forecasts are for next 48 hours and update 4 times per day. (Csak PRO felhasználók)
A lefedett terület térképen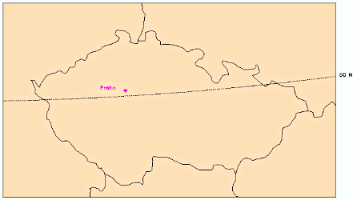 17.11.2010
Az európai 9km-es WRF területet növeltük. We have moved the domain slightly towards north and extended northwards and eastwards so that it now covers whole British Isles, Denmark, south of Sweeden, bigger part of Baltic sea and Latvia..
A lefedett terület térképen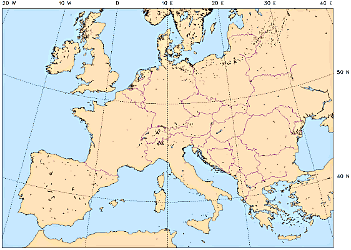 15.11.2010
Windguru Windows Mobile 6.5-re [ford. megj.: elavult info]. Az applikáció fejlesztője Justin Drerup (fanetic.com). INGYENES.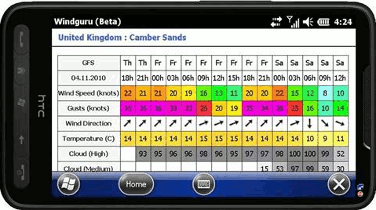 29.7.2010
Széllökések hozzáadása a GFS modell előrejelzéshez.
22.7.2010
Windguru lettül! A lett verziót karbantartja Reinis Pļaviņš, Zane Kreslina & Igor Krumin
15.05.2010
WRF 12 km felbontású modell előrejelzés Argentínára. (Also covers Uruguay, most of Chile, part of Paraguay and the very south of Brazil). This high-resolution model updates twice per day and offers forecast for 78 hours with 1 hour step. Please note this is still a preview only, the final version should update 4 times per day and the coverage might be a little different. (Csak PRO felhasználók)
A lefedett terület térképen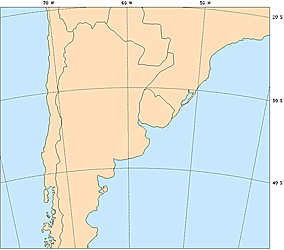 10.5.2010
Added sea surface temperatures. Data come from NOAA Real-Time Global Sea Surface Temperature analysis (RTG_SST_HR dataset), the source is satellite data and also buoy and ship observations.

11.4.2010
Forecast maps from the HRW 4 km model for United States. (Csak PRO felhasználók)
9.4.2010
HRW 4 km resolution model forecasts for United States! These high-resolution model forecasts come from NOAA/NWS (US weather service) and they are powered by WRF model similiar to HRW forecasts for Hawaii. NOAA names this as HRW (High Resolution Window) so we will use the same label. They are running 2 different domains, one covers east-central part of US and updates twice per day (we will label this as HRWe), and the other west-central part of US and updates once per day (HRWw). Both provide forecast for 48 hours with 1 hour step. Ingyenes minden felhasználónak
A lefedett terület térképen:

| | |
| --- | --- |
| HRWw (US west/central) | HRWe (US east/central) |
| | |
4.4.2010
After several complaints about the upgrade to wave forecasts on 27th march we are reverting back to the previous lower resolution NWW3 dataset. Later we can add the higher resolution data again but only as optional for users who want to test it.
27.3.2010
The wave forecasts are now powered by NWW3 dataset with 50 km resolution. Untill now we used lower resolution data (1 x 1.25 degree) which correspond to something over 100 km. This upgrade should make the wave forecasts a little better. If you have some custom spots with wave forecast enabled, please check them in your settings, especially if you entered alternative coordinates for waves.
19.1.2010
Windguru Androidon. Az applikációt le lehet tölteni és installálni a Google Play-ből (régi nevén Android market). INGYENES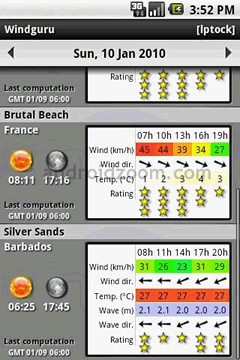 1.1.2010
Wind chill is now available as optional parameter in the forecast tables (registered users can enable it in settings).
7.12.2009
GFS, NAM & HRW Előrejelzési térképek (Csak PRO felhasználók). The maps cover several areas around world, showing wind speed, temperature, precipitation and cloud cover.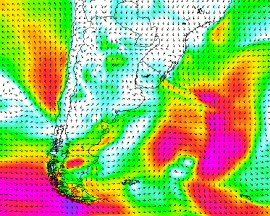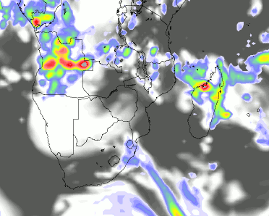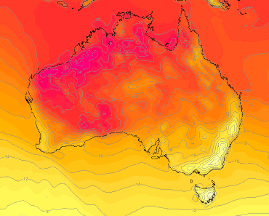 24.11.2009
HRW 5 km resolution model forecasts for Hawaii! This high-resolution model updates twice per day and offers forecast for 48 hours with 1 hour step. Ingyenes minden felhasználónak
A lefedett terület térképen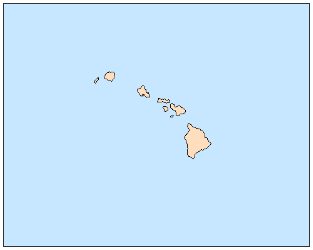 6.11.2009
Now you can select spots from a google map. This new feature should help you especially when you are searching for a forecast in a specific area but you do not know what you should be looking for in the long spot menu. You can display the map by clicking the "show map" checkbox near the spot menu (see the picture below). A térkép mindig azokat a helyeket fogja betölteni amik a "hely választás"s menüben vannak.
Például válassza ki Olaszországot és a hely menüben és a térképen is megjelennek az olasz helyek. Ha Európa összes helyére kíváncsi, akkor válassza a ÖSSZES országot. Megjelenítheti az összes ország összes helyét is, de az nagyon sok helyet jelent, és nem lesz gyors... I would suggest to use the map with recommended browsers. Internet Explorer is NOT recommended because it is very slow compared to others.
If there are more spots too close to each other they are grouped in the map, click the group icon to zoom in and show more detail.

30.10.2009

We have added over 1000 new spots to the official list. This was possible thanks to our cooperation with Stoked Publications who just released their new WORLD KITE AND WINDSURFING GUIDE. The first comprehensive spot guide to the kite and windsurfing regions of the world. Introducing almost 100 regions in 9 continental chapters and featuring over 1200 of the world's best spots. Illustrated with 700 photos and detailed maps of every region. Plus: in depth explanations of wind, wave and weather conditions throughout the year. The Guide also offers authentic travel information with essential tips on what to expect in each region and what is essential for a successful trip. Last but not least the book contains contact details of local shops, shapers, schools and gear rental as well as accommodation, restaurants, rental cars and other insider tips. Highly recommended!
All the spots mentioned in the guide are now covered by Windguru forecasts.
2.8.2009
WRF 9 km resolution model forecasts for Egypt! The new WRF domain covers Northern Red Sea with popular spots in Egypt, and also Israel, Lebannon and south of Cyprus.
A lefedett terület térképen: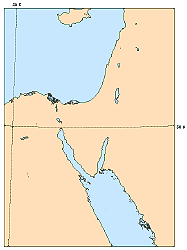 6.7.2009
WRF 9km felbontású modell előrejelzés a Kanári szigetekre! The new 9 km domain also covers Madeira and part of Morocco's Atlantic coast
A lefedett terület térképen: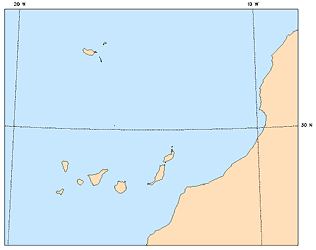 © 2000 - 2019 www.windguru.cz | Felhasználási feltételek | Súgó | Kapcsolat |