Novità
(Le notizie via RSS sono disponibili qui)
25.9.2015
micro.windguru.cz, the ultra lite version of Windguru.
The "micro" site was mainly made for offshore sailors who can only access internet using very bandwidth limited satellite or radio connections. Forecasts here are as small as possible, text only. You can view forecasts for any spot registered on Windguru or for any latitude / longitude you choose (PRO users only).
18.9.2015
WRF 9 km resolution! forecasts for East Asia. (Solo utenti PRO)
Mappa dell'area coperta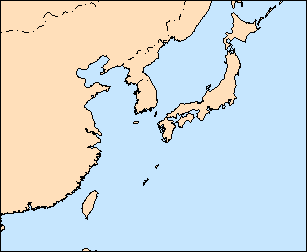 14.1.2015
NOAA/NCEP made a major GFS model upgrade. GFS forecasts now cover all globe with 27 km horizontal resolution. We also extended the forecast horizont to 10 days.
This is a big upgrade that affect not only windguru, but all the sites that rely on GFS (most of weather sites on the internet ;-), if you were used to make decisions based on GFS you should reconsider the way how you interpret the forecasts for your spot now, it may take a while to get used to the new forecasts.
Hope this is a good step for better forecasts all around the world!
30.11.2013
Prices for Windguru PRO are now in EUR, you can also choose to pay in USD or CZK (price will recalculate according to latest official exchange rate). The shortest subscription is now 1 month.
10.9.2013
By the end of July NOAA changed the output of their NWW3 models, since then many people complained about exaggerated wave forecasts of the coarse (1.25 x 1.0 degree resolution) data which we had inside GFS forecast. To eliminate this problem NWW3 50 km is now the default that displays inside GFS forecasts, this dataset seems to be more accurate. (Registered users can configure their preferences in settings.)
7.8.2013
Quick spot select. Now we have a more comfortable spot selection tool. This little input field in the main spot menu and other places throughout the website is made to pick a spot as fast as possible. Bye bye long and complicated menus...
quick spot search box, it will immediately suggest 3 groups of spots that you would select most probably (if you have some of them):

1. Last 5 used spots (sorted by last use, yellow)

2. Your favourite spots (icon with a star)

3. Your custom spots (green)

You can use [up] and [down] arrow keys to select spot and confirm with [enter] key, or pick s spot by mouse. First item is always pre-selected - just hit [enter] to confirm.

As you start typing the spots get filtered to shorten the list.
Once you enter 3 or more characters it will search all the spots available on windguru and update the list accordingly.

Different kind of spots are marked by different colors and little windguru icons for easier navigation. If found, spots are sorted by importance and then alphabetically. Your favourite and custom spots come first, followed by "official" windguru spots (blue icons) and then custom spots entered by other users (grey icons).

We keep the older spot menu and favorite menus of course, but this new quick spot tool is now the default.

Hope you like it! :)
6.4.2013
NWW3 50 km resolution wave model forecasts Especially surfers might be interested in this new addon... As you might already know the wave forecasts on windguru are powered by NWW3 model from NOAA and we only used their data with 1 latitude x 1.25 longitude degree resolution. Maybe you still remember... long time ago we tried to switch to the higher (0.5 x 0.5 degree) resolution model from NOAA, but after several complaints about aaccuracy of the new forecasts we reverted back. But... advantage of the higher resolution NWW3 model is that it not only offers the basic parameters (wave height, direction and period) but also distinguish different components: primary swell, secondary swell and wind waves. The coarse resolution NWW3 data do not have this.
Now we have both. By default we show the new 50 km NWW3 model as a separate table under the GFS forecast and the GFS forecast still includes the older NWW3 100 km resolution data, same as before. If you have other preference simply go to settings -> preferences where you can configure how to display waves (registered users only). You can choose which data to include inside GFS forecasts and which wave models to display as separate tables.
If you have some custom spots and want to have wave forecasts for them, you should now visit the settings section to check their wave forecast configuration.

15.3.2013
Custom colors in forecasts. The default colors in the forecasts were selected very carefully and we believe this is the best for average windsurfer or kiter. In case you have other preference, you now have an option, feel free to edit colors anyhow according to your personal taste. See settings -> colors. (solamente utenti registrati)

24.1.2013
WRF 3 km resolution! forecasts for Gibraltar/Tarifa. Forecasts are for next 48 hours and update 4 times per day. (Solo utenti PRO)
Mappa dell'area coperta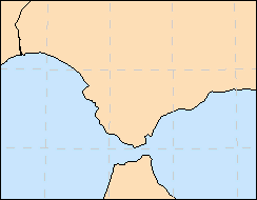 22.1.2013
WRF 9 km forecasts for Canaries and Egypt now include wind and temperature profile plots too (see 2D tab on forecasts).
12.1.2013
WRF 12 km for Argentina now updates 4 times per day and include wind and temperature profile plots (see 2D tab on forecasts).
26.11.2012
Official Windguru app for Android. It's quite simple and very simliar to our mobile site at touch.windguru.cz. The main purpose of this app is to get easily to your windguru forecast on your phone or tablet. It does not have many features (at least yet) but should do what we need the most: to view the forecast in the format we are all used to :-)
Main features:
Classic windguru forecast tables
Bandwith friendly. The app minimize downloads and should work even on slow internet connections.
Supports offline use. When offline, the app can still display previously loaded forecasts.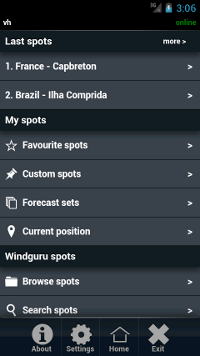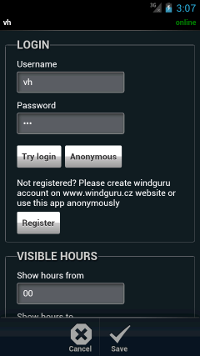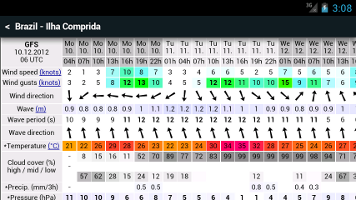 The plan is to release official apps for all major platforms and all these apps should look and work same or at least very similiar.
Please note that some Windguru apps already exist for several platforms (Android, iPhone, Windows Mobile, Windows Phone) - see the Help section. These apps are made by external partners and still are and will be supported by Windguru as alternatives.
19.11.2012
Some minor updates:
Email alerts now support pressure as another parameter.
WRF archives now also include precipitation and clouds.
Started process of unifiyng the appearance of the forecast maps, previously the WRF maps were generated by different software and looked a little different than maps we made for GFS, NAM etc., we want to make all the maps look same. At the moment we changed maps for WRF 9 km model for Europe and WRF 3 km for Czech republic. The other WRF models should follow soon. For Europe we now have a little different detailed maps then before and also added 4 maps that show larger areas at once (NW, NE, SW and SE of Europe), should be useful to get a better overview of the forecast.
13.11.2012
WRF 9 km resolution! forecasts for South Africa. (Solo utenti PRO)
Mappa dell'area coperta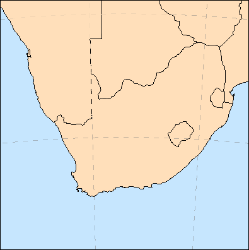 18.1.2011
A little update of the Email alerts. Alerts now support conditions for wind gusts, and waves (NWW3 model).
9.1.2012
Wind and temperature profile plots. Now you can see what wind and temperature is forecasted in different altitudes. Mouse over the "2D" tab on the forecast to select the profile. Same as the graphs introduced recently, the plots are drawn by the browser, SVG graphics support is required (all browsers except Internet Explorer 8 or below).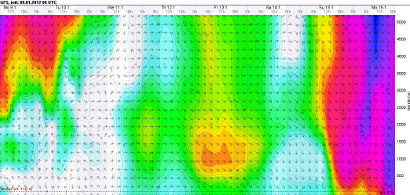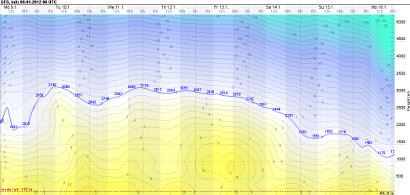 1.12.2011
Graphical version of the forecast. Now you can also see the forecasts as graphs, simply click the tab with graph icon at any forecast table.

Since the beginning of this site, the core of Windguru was the forecast displayed as colorful table with a lot of numbers. I think it will stay like this in future too because despite one can consider it a bit oldschool, the table shows a lot of info with high detail on a small space and still looks clear and uncluttered. But why not to offer alternative display option? Forecast graph offers another view, more eye candy :-) and some people will prefer it.
If you like to have the graphical view as your default, you can set it using the "options tab" on the main page.
Important notice: Your browser must support SVG graphics in order to display the graphical forecast. All good browsers (Chrome, Firefox, Opera, Safari, IE 9) are OK, but if you have Internet Explorer 8 or older it will not work, please switch to better browser if this is your case.
The positive thing is that all the graphs are not plain images that require additional data download, instead they are drawn by your browser, so it is also bandwith friendly for those with slower connections.
Graph example
What you see below is the first version of the graphical forecast (probably not final, we expect to fine-tune it over time).
There are two main sections of the graph, the upper part is dedicated to the most important = wind, it scales depending on how much wind is predicted, if strong wind is forecasted it is bigger, if there is not much wind it becomes smaller.
The bottom part shows the "less important" parameters like temperature, clouds, precipitation, pressure and humidity - all drawn into one section to save space.The cloud cover display is a little special so it needs a little more explanation: low clouds are the dark grey area that is drawn from bottom of the graph, high clouds are light grey drawn from the top of this graph section and middle clouds (medium grey) are drawn from the center both up and downwards. If any of these fill all the area then it means 100% cloud cover for given cloud layer. Because all the cloud layers are semi-transparent if there is a lot of clouds in all layers the whole cloud graph turns almost black indicating a lot of clouds, the darker it is the more clouds are forecasted and you can still see how much each layer participate.
Right now the units for wind speed and temperature are taken from the classic table forecast, if you want to switch them temporarily, go back to the normal forecast, change units to what you prefer and then open the graph tab again, it will redraw with selected units.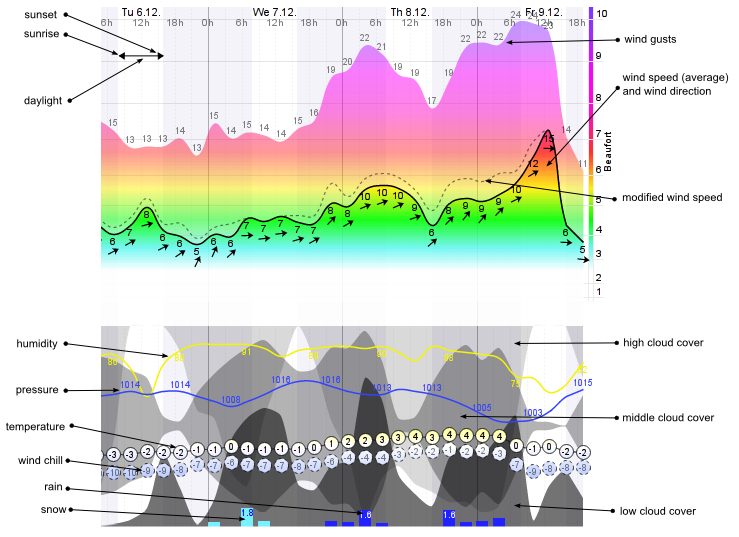 Future plans are to use the graphical display for visualizing temperature profile and wind in higher levels. We also plan to allow users to customize graph appearance because not only wind addicted people watch Windguru and they probably have other preferences.
If you have an opinion or idea about the new graphs feel free to send some feedback. Thanks!
20.11.2011
NAM 3 km resolution model forecasts for Hawaii! Updates are 4 times per day. È gratuito per tutti gli utenti.
Mappa dell'area coperta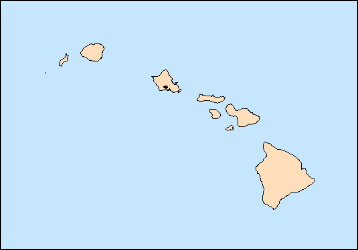 3.9.2011
New version of webmaster forecasts available! This is the recommended method of adding Windguru to your site now. It's very easy... simply copy and paste piece of HTML code to your site and you are done. Get the forecast code here!
20.7.2011
Windguru Mobile (beta). Windguru mobile version is optimized for touchscreen devices - smartphones or tablets. The purpose of this site is to get easily to your Windguru forecast using the touch screen. Windguru Mobile should work with most modern mobile browsers but please still consider it beta version only. Some bugs can appear, please excuse possible troubles.
Da provare: http://touch.windguru.cz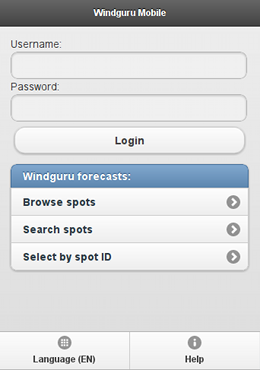 16.5.2011
Direzione del vento/onde adesso visualizzate con una maggiore precisione. Si tratta di un piccolo aggiornamento ma che può essere utile... Precedentemente windguru veniva visualizzato da 16 diverse frecce per direzione (con 22,5 gradi di precisione), adesso è possibile visualizzare la previsione esattamente senza questo limite. Il tuo browser deve supportare la grafica SVG per notare la differenza (tutti i migliori browser lo supportano - Chrome, Firefox, Opera, Safari ... se si utilizza Internet Explorer è necessario utilizzare la versione attuale 9, sulle precedenti versioni di IE non funziona)

14.5.2011
Modello con risoluzione HRW 5 km, fornisce previsioni per una parte dei Caraibi. Copre un'area prossima alla Repubblica Dominicana e Puerto Rico. Questo modello ad alta risoluzione è aggiornato due volte al giorno ed offre previsioni per 48 ore con passo di 1 ora. È gratuito per tutti gli utenti
Mappa dell'area coperta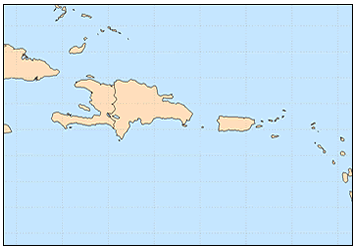 17.2.2011
Windguru per Windows Phone 7. Disponibili sul Windows Phone Marketplace, GRATIS! L'applicazione è stata creata da Justin Drerup (fanetic.com).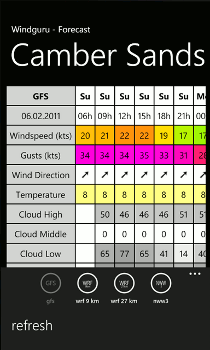 21.1.2011
Email alerts! Non vuoi perdere le migliori previsioni per il tuo spot? Imposta il Windguru e-mail alerts e Windguru ti avviserà via email ogni volta che le previsioni soddisferanno le condizioni desiderate. (Gli avvisi si basono su modelli WRF che sono disponibili solo per gli utenti PRO)
18.11.2010
Risoluzione WRF 3 km! Previsioni per la Repubblica Ceca. Essendo talmente alta la risoluzione di questo modello richiede molto calcolo, percui per il momento il dominio non può coprire una vasta area, le previsioni sono valide per le prossime 48 ore e l'aggiornamento è effettuato 4 volte al giorno. (Solo utenti PRO)
Mappa dell'area coperta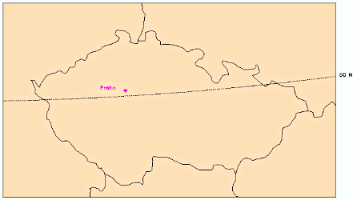 17.11.2010
L'area di dominio del modello WRF 9 km per l'Europa è stata ampliata. Abbiamo spostato il dominio leggermente verso nord ed esteso verso nord e verso est coprendo ormai tutte le isole Britanniche, la Danimarca, a sud di Svezia, grande parte del Mar Baltico e della Lettonia..
Mappa dell'area coperta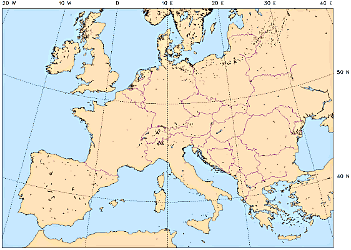 15.11.2010
Windguru for Windows Mobile 6.5. L'applicazione è stata creata da Justin Drerup (fanetic.com). It's FREE.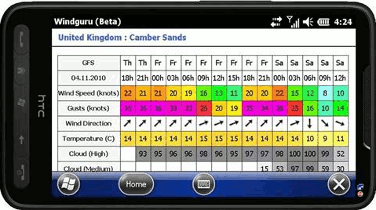 29.7.2010
Al modello di previsione GFS sono state aggiunte le raffiche di vento.
22.7.2010
Windguru in lettone! La versione lettone è gestita da Reinis Pļaviņš, Zane Kreslina & Igor Krumin
15.05.2010
Modello di previsioni WRF con 12 km di risoluzione per l'Argentina. (Ricopre anche l'Uruguay, la maggior parte del Cile, parte del Paraguay e l'estremo sud del Brasile). Questo modello ad alta risoluzione è aggiornato due volte al giorno e offre previsioni per 78 ore con passo di 1 ora. Si prega di notare che l'attuale modello visualizzato è per il momento ancora un'anteprima, la versione finale dovrebbe aggiornarsi 4 volte al giorno e la copertura potrebbe essere un po' diversa. (Solo utenti PRO)
Mappa dell'area coperta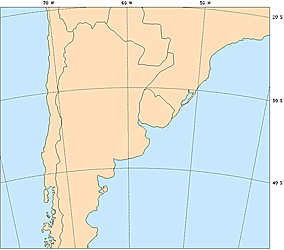 10.5.2010
Aggiunta la temperature della superficie del mare. I dati provengono dal NOAA Real-Time Global Sea Surface Temperature (Analisi globali in tempo reale della temperatura superficiale del Mare) (RTG_SST_HR dataset), queste informazioni sono tratte da dati satellitari ed inoltre dalle boe e dalle osservazioni navali.

11.4.2010
Mappe di previsioni per gli Stati Uniti, provenienti dal modello HRW 4 km. (Solo utenti PRO)
9.4.2010
Il modello di previsione HRW con risoluzione 4 km è adesso disponibile per gli Stati Uniti! Questo modello di previsione ad alta risoluzione proviene dalla NOAA/NWS (servizio meteorologico degli Stati Uniti) ed è alimentato dal modello WRF di forma simigliante a ciò che accade per le previsioni HRW per Hawaii. La NOAA l'ha denominato HRW (High Resolution Window) quindi anche noi useremo la stessa denominazione. Attualmente sono computati 2 diversi domini, uno riguarda la parte centro-orientale degli Stati Uniti ed è aggiornato due volte al giorno (da noi denominato come HRWe), e l'altro riguarda la parte centro-occidentale degli Stati Uniti essendo questo aggiornato una volta al giorno (HRWw). Entrambi forniscono previsioni per 48 ore con passo di 1 ora. È gratuito per tutti gli utenti
Mappa dell'area coperta:

| | |
| --- | --- |
| HRWw (US west/central) | HRWe (US east/central) |
| | |
4.4.2010
In seguito a numerosi reclami relativi all'aggiornamento del 27 marzo del modello per le previsioni delle onde, abbiamo deciso di riutilizzare la precedente ed inferiore risoluzione NWW3. In futuro potremmo riaggiornare di nuovo i dati con la risoluzione maggiore, ma solamente come opzione per gli utenti che lo desidereranno.
27.3.2010
Le previsioni per le onde sono adesso aggiornate e potenziate dal dataset NWW3 con 50 km di risoluzione. Fino ad ora abbiamo utilizzato i dati con una minore risoluzione (1 x 1,25 gradi) che corrisponde ad una risoluzione con una griglia maggiore di 100 km. Questo aggiornamento dovrebbe fornire delle migliori previsioni delle onde. Se hai qualche località personalizzata con le previsioni delle onde attivata, si prega di consultare nelle tue impostazioni, soprattutto se hai inserito delle coordinate alternative per le onde.
19.1.2010
Windguru su Android. L'applicazione puó essere scaricata ed installata direttamente da Android Market. É GRATIS!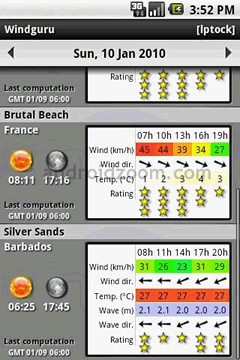 1.1.2010
Il wind chill (indice di raffreddamento della temperatura percepita) è adesso disponibile come parametro opzionale nelle tabelle delle previsioni (gli utenti registrati possono attivarlo nel menù impostazioni).
7.12.2009
GFS, NAM & HRW mappe delle previsioni (Solo utenti PRO). Le mappe coprono diverse aree in tutto mondo, visualizzando la velocità del vento, temperatura, precipitazione e la nuvolosità.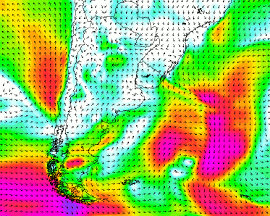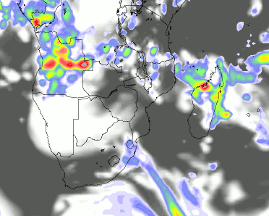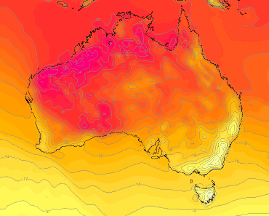 24.11.2009
Modello di previsione con risoluzione HRW 5 km per le Hawaii! Questo modello ad alta risoluzione è aggiornato due volte al giorno ed offre previsioni per 48 ore con passo di 1 ora. È gratuito per tutti gli utenti
Mappa dell'area coperta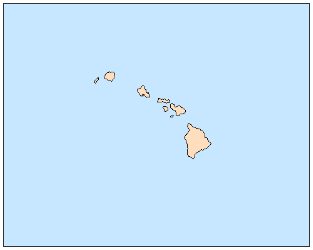 6.11.2009
È adesso possibile selezionare le località direttamente da Google Map. Questa nuova caratteristica dovrebbe soprattutto aiutarti quando sei alla ricerca di una previsione in una specifica area ma non conosci l'esatta sua localizzazione. È possibile visualizzare la mappa segnando la casella di controllo di "Visualizza la mappa&quot affianco del menù delle località (vedi immagine riportata qui sotto). La mappa caricherà sempre le località che appaiono nel menu "selezionare località".
Ad esempio: selezionando Italia, nel menu delle "Località" saranno mostrate tutte le località presenti in Italia ed inoltre saranno caricate nella mappa e visualizzate. Se vuoi vedere tutte le località presenti in Europa, seleziona --TUTTO -- nel menu "Stato". È anche possibile visualizzare tutte le località disponibili selezionando --TUTTO (Mondo) -- nel menu "Area geografica"e poi --TUTTO -- nel menu "Stato", ma fai attenzione che questo caricherà moltissime località e possibilmente sarà un'operazione abbastanza lenta.... Suggerirei di utilizzare la mappa con un browser raccomandato. Internet Explorer NON è raccomandato perché è molto lento comparato ad altri browsers.
If there are more spots too close to each other they are grouped in the map, click the group icon to zoom in and show more detail.

30.10.2009

Abbiamo aggiunto oltre 1000 nuove località all'elenco ufficiale. Ciò è stato possibile grazie alla nostra collaborazione con Stoked Publications che ha appena finito di pubblicare il loro nuovo WORLD KITE AND WINDSURFING GUIDE. È la prima guida completa per il kite ed il windsurf nel mondo. Presenta quasi 100 regioni in 9 capitoli ed oltre 1200 delle migliori località al mondo. Illustrato con 700 foto e mappe dettagliate di ogni regione. Inoltre: posside spiegazioni approfondite sul vento, onde e sulle condizioni meteorologiche relative a tutto l'anno. La Guida offre anche delle autentiche informazioni per i viaggi, con suggerimenti essenziali su cosa aspettarsi da ogni regione ed informa di ciò che può essere essenziale per un viaggio senza problemi. In ultimo ma non di minor importanza, il libro contiene i contatti dei negozi locali, degli shapers, delle scuole e dei noleggi del materiale, nonché di alloggi, ristoranti, noleggi auto ed ulteriori consigli. Fortemente consigliato!
Tutte le località citate nella guida sono ora coperte dalle previsioni di Windguru.
2.8.2009
Modello di previsione con risoluzione WRF 9 km per l'Egitto! Il nuovo dominio WRF 9 km copre la parte nord del Mar Rossso inclusi i popolari spots in Egitto, Israele, Libano e la parte sud di Cipro.
Mappa dell'area coperta: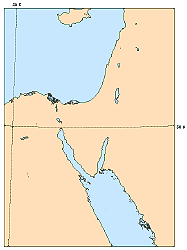 6.7.2009
Modello di previsione con risoluzione WRF 9 km per le Isole Canarie! Il nuovo dominio di 9 km copre anche Madeira e parte della costa Atlantica del Marocco
Mappa dell'area coperta: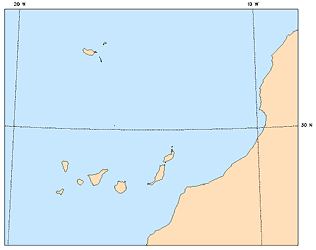 © 2000 - 2019 www.windguru.cz | Termini e condizioni | Aiuto | Contatti |