Windguru mobile version is optimized for touchscreen devices - smartphones or tablets. The purpose of this site is to get easily to your Windguru forecast using the touch screen. Windguru Mobil çoğu modern mobil tarayıcıyla çalışmaktadır, fakat halen beta sürümdedir. Hatalar oluşabilir, lütfen mazur görünüz.
Windguru Mobil jQuery Mobile framework kullanılarak geliştirilmiştir. Uygulama fonksiyonalitesi mobil tarayıcınızın kapasitesi ve JQuery Mobile desteğiyle sınırlıdır. JQuery Mobile framework, halen geliştirilmekte olan, beta sürümünde bir yapıdır, bundan dolayıdır ki navigasyon sırasında sorunlarla karşılaşabilirsiniz.
Windguru WAP2 sürümünü kullanıyorsanız, kolayca Windguru Mobil'i de kullanabilirsiniz. İkisi de birbirine çok benzer, fakat Windguru Mobil daha rahat bir kullanım sağlar. WAP2'de olduğu gibi anonim bir şekilde ya da kullanıcı adınızla erişim sağlayarak favorilerinizi görebilir ve, PRO üyeliğiniz varsa, PRO tahminlerinizi alabilirsiniz.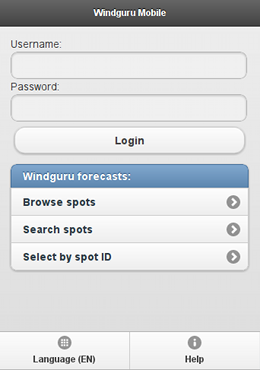 © 2000 - 2019 www.windguru.cz | Şartlar ve koşullar | Yardım | İletişim |